Prayer of thanksgiving to Padre Pio – Padre Pio, I thank You for your great love and care, i thank you for all your goodness and loving-kindness to me – Full of appreciation and profound gratitude I acknowledge the favors you have secured for me in reply to my prayers.
---
Prayer of Thanksgiving to Padre Pio of Pietrelcina
Beloved Padre Pio, today as I feel especially blessed, loved, and strengthened by the Creator through your intercession, I call upon your holy name to express my gratitude, to tell you that you are infinitely blessed.
Thanks to your blessed hands, Padre Pio, thousands of the faithful were by Jesus' power absolved of their sins. Thank you for having given back faith to so many who, immersed in doubt, recovered their belief by your holiness and witness of life. Thank you for the immense fruits that still aid in the conversion of those who follow you and trust in your mediation.
Padre Pio, may you be eternally blessed. Thank you for your fidelity to the Creator; no doubt could weaken your relationship with the Almighty. You were a helper and guide for so many who now by your aid are holy pilgrims on the narrow path that leads to eternal blessedness.
Let my words of thanksgiving for your great work of holiness on earth and for the miracles granted by your favor reach the heights of heaven, so that the Father may grant to the earth his blessing for all who, moved by faith, long to reach grace in his sight as you have.
Thank you, Padre Pio, shepherd of this immense flock, for from heaven your work for the good of mankind continues unabated; you sow faith, hope, and love among those who oppress and scandalize the world by their sin. Amen
All rights reserved – © Padrepiodapietrelcina.com 2020
---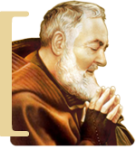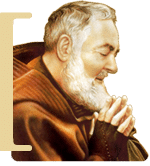 Dear brother,
Dear sister
if you are reading these pages you have felt the need to meet Padre Pio.
Every day we strive to be present online with this blog comforting and encouraging those who are in
difficult moment in their life
. This blog, unfortunately, involves high management costs and expenses.
Help us with your support
, our commitment alone is not enough.
We need double
Help to be able to continue
being online,
we can't do it alone
. If you want our "
mission
" to continue, send your contribution, even symbolic. We do not insert annoying advertisements in our blog,
we do not ask for a subscription fee
, we rely only on your generosity.
If you believe in what we do and publish
send your contribution
, whatever you can/want. Support:
Padrepiodapietrelcina.com Devotional Blog dedicated to Padre Pio
.

Your little support is of great value for everyone.
Thank you
Padrepiodapietrelcina.Com | Spiritual and Devotional Blog dedicated to St Padre Pio of Pietrelcina
.