Prayer of thanksgiving to Padre Pio – Padre Pio, I thank You for your great love and care, i thank you for all your goodness and loving-kindness to me – Full of appreciation and profound gratitude I acknowledge the favors you have secured for me in reply to my prayers.
---
Prayer of Thanksgiving to Padre Pio of Pietrelcina
Padre Pio, next to you no one heard the Voice: and you talked to God; no one saw the Light near you: and you saw God.
O Padre Pio of Pietrelcina, who loved and imitated Jesus so much, give me to love him with all my heart.
Make the prayer like you love, give me a tender devotion to Our Lady, obtain for me the grace I desire.
O Jesus, full of grace and charity and victim for sins, who, driven by love for our souls, wanted to die on the cross, I humbly beg you to glorify, even on this earth, the servant of God, St Padre Pio of Pietrelcina who, in the generous participation in your sufferings, loved you so much and did so much for the glory of your Father and for the good of souls.
Padre Pio, while we were running out of breath, you remained on your knees and you saw the love of God nailed to a wood, wounded in the hands, feet and heart.
Padre Pio, help us cry in front of the cross,
help us to believe before the Love,
help us to feel Mass as the cry of God,
help us to seek forgiveness as an embrace of peace,
help us to be Christians with wounds
who pour the blood of faithful and silent charity: like God's wounds.
Amen
All rights reserved – © Padrepiodapietrelcina.com 2020
---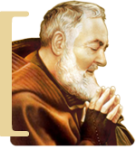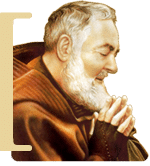 Dear brother,
Dear sister
if you are reading these pages you have felt the need to meet Padre Pio.
Every day we strive to be present online with this blog comforting and encouraging those who are in
difficult moment in their life
. This blog, unfortunately, involves high management costs and expenses.
Help us with your support
, our commitment alone is not enough.
We need double
Help to be able to continue
being online,
we can't do it alone
. If you want our "
mission
" to continue, send your contribution, even symbolic. We do not insert annoying advertisements in our blog,
we do not ask for a subscription fee
, we rely only on your generosity.
If you believe in what we do and publish
send your contribution
, whatever you can/want. Support:
Padrepiodapietrelcina.com Devotional Blog dedicated to Padre Pio
.

Your little support is of great value for everyone.
Thank you
Padrepiodapietrelcina.Com | Spiritual and Devotional Blog dedicated to St Padre Pio of Pietrelcina
.