On May 25th we celebrate the anniversary of Padre Pio's birth – We remember with love the birthday of Padre Pio on May 25th – We turn our thoughts and prayers to Padre Pio on the day of his birth.
---
May 25th – Padre Pio's birthday
Padre Pio is so treasured, loved, and adored because he shows us, by simple means, the love of our Lord, Jesus Christ.
Padre Pio's greatness, then, is embodied in his belonging to God, and to Christ crucified, who freely gave his life for us and for our salvation.
From his birth, Padre Pio was chosen by God as a partner in Christ's redeeming work. Padre Pio was an instrument in the hand of God, allowing many men the opportunity to experience mercy and conversion.
The first signs of his sanctifying grace were had in Pietrelcina when he received the stigmata beneath an elm tree in the nearby Roman Plain.
The years he spent in Pietrelcina prepared the young Padre Pio to understand the Great Mission that God had planned for him. "Deep inside, I hear a voice that is constantly telling me: 'Sanctify yourself and sanctify others.'"
The great mission entrusted to Padre Pio involved spiritual and physical suffering: divine gifts, the cross, and whipping. Beginning at his birth on the 25th of May, Padre Pio developed a deeper understanding, year after year, of the purpose of that suffering: to atone for the guilt of God's people and to offer himself up in place of the sinner.
May 25th – Prayer for the day of Padre Pio's birth
Padre Pio, teach us to work alongside God.
Pray for us so that we, as you showed us, may know the joy of being loved, desired, cherished, and cared for by God.
Padre Pio, help us to pray without fail and without losing hope.
We thank you, Lord, for giving us Padre Pio. May we emulate him and make our lives one that is given to charity, God's mission, and our neighbor. But, above all, help us to never give up and never give into demoralizing pessimism. Amen
All rights reserved – © padrepiodapietrelcina.com 2020
---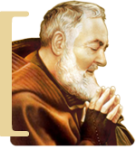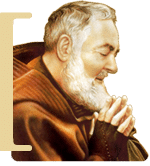 Dear brother, dear sister


if you are reading these pages you have felt the need to meet Padre Pio in your heart.
Every day, with this Blog, we comfort those who are experiencing a
difficult time
or want to strengthen their faith.
Unfortunately, management costs and expenses are high
. Our commitment alone is not enough.
Help us with your support
.
We need double
Help to be able to continue
being online,
we can't do it alone
. If you want our "
mission
" to continue, send your contribution, even symbolic. We do not insert annoying advertisements in our blog,
we do not ask for a subscription fee
, we rely only on your generosity.
If you believe in what we do and if you approve what we publish
send your contribution
, whatever you can/want. Support:
Padrepiodapietrelcina.com Devotional Blog dedicated to Padre Pio
.

Your little support is very valuable for everyone. Thank you
Padrepiodapietrelcina.Com | Spiritual and Devotional Blog dedicated to St Padre Pio of Pietrelcina
.