A powerfull good night prayer to Padre Pio – a evening prayer is a prayer with which we give thanks for the day we've been given, and to pray that the next day will be good, too – This prayer can be recited at the end of our day, after dinner or just before going to bed.
---
Good Night Prayer to Padre Pio | Bedtime Prayer for Peaceful Sleep
Padre Pio, this day is coming to an end, voices are becoming hushed, and noises are far away – in this moment of silence, I lift up my evening prayer to you.
Padre Pio, let me pass the night peacefully, in your loving arms. Through your goodness, may I always be granted a safe place to lay my head, a time of holy rest and peace in my soul.
I entrust you with the struggles, the worries, and the joys of this day.
If I was unfaithful, if I was selfish, if I gave in to anger, and if I was a problem for someone, forgive me. Forgive me of all the sins I've committed today and fill my heart with your love.
Padre Pio, there are big problems in my life that I have to face, and important decisions that I have to make; I'm confused and worried. I can't find the solutions I need.
As I sleep tonight, come to my aid and show me which path to take. Let your voice speak to my mind and my heart.
Bring serenity to this house and peace to my spirit; ease my tension, and shower me with trust and hope.
Padre Pio, protect those who feel alone and abandoned, relieve those who are ill of their suffering, comfort those who feel mistrusted and depressed, and lift up those who waver in their faith.
Watch over me, Padre Pio, as I, with trust, drift off to sleep. Protect me from evil and from the adversary's attacks. I will sleep peacefully with you by my side. Amen
All rights reserved – © Padrepiodapietrelcina.com 2020
---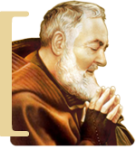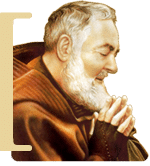 Dear brother,
Dear sister
if you are reading these pages you have felt the need to meet Padre Pio.
Every day we strive to be present online with this blog comforting and encouraging those who are in
difficult moment in their life
. This blog, unfortunately, involves high management costs and expenses.
Help us with your support
, our commitment alone is not enough.
We need double
Help to be able to continue
being online,
we can't do it alone
. If you want our "
mission
" to continue, send your contribution, even symbolic. We do not insert annoying advertisements in our blog,
we do not ask for a subscription fee
, we rely only on your generosity.
If you believe in what we do and publish
send your contribution
, whatever you can/want. Support:
Padrepiodapietrelcina.com Devotional Blog dedicated to Padre Pio
.

Your little support is of great value for everyone.
Thank you
Padrepiodapietrelcina.Com | Spiritual and Devotional Blog dedicated to St Padre Pio of Pietrelcina
.