Prayer to Our Lady of Graces – Padre Pio nurtured his love for the Blessed Virgin Mary Mother of Jesus from the time he was a child – Our Lady of Graces has always had the first place in the heart of Padre Pio. Mary as Our Lady of Graces is venerated in the church of the Capuchins in San Giovanni Rotondo, Italy
---
Prayer to Mary as Our Lady of Graces Padre Pio's favourite
O Our Lady of Graces, heavenly treasurer of all graces, Mother of God and my Mother Mary, since you are the first-born daughter of the Eternal Father and hold in your hands His Omnipotence, be moved to pity my soul and grant me the grace which I fervently ask of You. Hail Mary
O Mary as Our Lady of Graces, merciful dispenser of divine graces, Mary most holy, Mother of the Eternal Incarnate Word Who has crowned you with His immense wisdom, look upon the greatness of my sorrow and grant me the grace I need so much. Hail Mary
O Our Lady of Graces, most loving dispenser of divine graces, Immaculate Spouse of the Eternal Holy Spirit, most holy Mary, who have received from Him a heart which is moved to pity by human misfortunes and which is constrained to offer consolation to those who suffer, be moved to pity my soul and grant me the grace which I await from you with full confidence in your immense goodness. Hail Mary
O my Mother, refuge of poor sinners, consolation of the afflicted, hope of those who despair and most powerful help of Christians, I place all my confidence in you, being sure that you will obtain for me from Jesus the grace which I so much desire, if it is for the good of my soul. Hail Mary.
All rights reserved – © Padrepiodapietrelcina.com 2020
---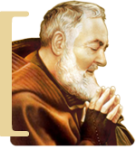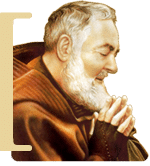 Dear brother,
Dear sister
if you are reading these pages you have felt the need to meet Padre Pio.
Every day we strive to be present online with this blog comforting and encouraging those who are in
difficult moment in their life
. This blog, unfortunately, involves high management costs and expenses.
Help us with your support
, our commitment alone is not enough.
We need double
Help to be able to continue
being online,
we can't do it alone
. If you want our "
mission
" to continue, send your contribution, even symbolic. We do not insert annoying advertisements in our blog,
we do not ask for a subscription fee
, we rely only on your generosity.
If you believe in what we do and publish
send your contribution
, whatever you can/want. Support:
Padrepiodapietrelcina.com Devotional Blog dedicated to Padre Pio
.

Your little support is of great value for everyone.
Thank you
Padrepiodapietrelcina.Com | Spiritual and Devotional Blog dedicated to St Padre Pio of Pietrelcina
.