Prayer to Padre Pio of Pietrelcina – Padre Pio with this prayer we turn to you in trust – we confide in you, knowing that you will intercede on our behalf for the grace which we need.
---
Beautiful Prayer to St. Padre Pio of Pietrelcina
Padre Pio, pure in heart, you who lived fully in prayer and in the love of God, teach us, too, humility, obedience, and generosity. Loving Padre Pio, help us give thanks to and praise the Lord, never failing in prayer, because His love is forever. Secure for us the help to be good Christians. Grant us a faith that is loving and tranquil. Teach us to recognize the face of Jesus in those who suffer and are in need.
I raise my prayer to you Saint Padre Pio of Pietrelcina: strengthen our hearts in times of trial – If we become unworthy and yield to temptation, secure for us healing for our sins. Help us seek the sacrament of forgiveness as the embrace of peace. Instill in us greater love and devotion for the Virgin Mary, Mother of Jesus and mother of us all.
Beloved Padre Pio, spiritual son of St. Francis of Assisi, and father of many souls brought back to life, kindly see to our spiritual and material needs. Padre Pio, you who lived fully in divine grace, in the love of God, and with the power of the Holy Spirit, you worked great miracles. Dearest Padre Pio, we turn to you in trust; support us in kindness.
We confide in you, o Padre Pio, and are sure that you will intercede for us, obtaining the grace we are in need of. Give us a charitable heart, teach us to be more generous, and help us to do good works with no thought of earthly compensation. Glorious Padre Pio, stay by us through our earthly pilgrimage back to the blessed Father, which we, too, hope to reach, where we can contemplate for eternity the glory of the Father, the Son, and the Holy Spirit. Amen
All rights reserved – © padrepiodapietrelcina.com 2020
---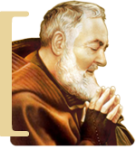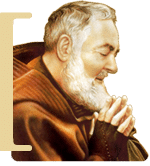 Dear brother, dear sister


if you are reading these pages you have felt the need to meet Padre Pio in your heart.
Every day, with this Blog, we comfort those who are experiencing a
difficult time
or want to strengthen their faith.
Unfortunately, management costs and expenses are high
. Our commitment alone is not enough.
Help us with your support
.
We need double
Help to be able to continue
being online,
we can't do it alone
. If you want our "
mission
" to continue, send your contribution, even symbolic. We do not insert annoying advertisements in our blog,
we do not ask for a subscription fee
, we rely only on your generosity.
If you believe in what we do and if you approve what we publish
send your contribution
, whatever you can/want. Support:
Padrepiodapietrelcina.com Devotional Blog dedicated to Padre Pio
.

Your little support is very valuable for everyone. Thank you
Padrepiodapietrelcina.Com | Spiritual and Devotional Blog dedicated to St Padre Pio of Pietrelcina
.