Our Lady always had the highest place in Padre Pio's heart; she was his greatest devotion. Padre Pio's love for the Virgin Mary was like that of a son who dotes on his mother, since he could not live without her. In August 1959 the pilgrim statue of Our Lady of Fatima arrived in San Giovanni Rotondo. At the same time Padre Pio was gravely ill. After that encounter his health improved. Padre Pio attributed his healing to the Virgin of Fatima.

---
Prayer to Our Lady of Fatima (Blessed Virgin Mary of Fatima)
Blessed Virgin Mary of Fatima, with renewed gratitude for your motherly presence we unite our voice to that of all generations who call you blessed. We celebrate in you the great works of God, who never tires of reaching down to man with mercy to heal and save him.
O Mary, Immaculate Virgin, to you we entrust our hearts, our families, and our pilgrim communities of faith. We consecrate our life to you, Mother of Divine Mercy, and we ask your motherly aid to reach transfiguration in Christ. Virgin Mary of Fatima, with a mother's kindness receive the act of entrustment we make to you.
We are certain that each one of us is precious in your eyes and that nothing we hold in our hearts is insignificant to you. May we let ourselves be looked upon by your most sweet gaze and may we receive the consoling touch of your smile. Mother of the Church, enlighten the People of God on the paths of faith, hope, and charity.
Our Lady of Fatima, help us to overcome the threat of evil, which so easily takes root in man's heart. O Holy Mother, full of grace, teach us your love for the poor, the suffering, sinners, and those whose hearts are astray. Gather them all under your protection and entrust them all to your beloved Son, our Lord Jesus.
Receive, O Mother of Christ, this cry carrying the suffering of all mankind. May the infinite power of God's merciful love be revealed once again in the history of the world. In your Immaculate Heart may the light of hope be unveiled to all. Amen
All rights reserved – © padrepiodapietrelcina.com 2020
---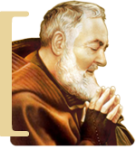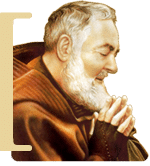 Dear brother, dear sister


if you are reading these pages you have felt the need to meet Padre Pio in your heart.
Every day, with this Blog, we comfort those who are experiencing a
difficult time
or want to strengthen their faith.
Unfortunately, management costs and expenses are high
. Our commitment alone is not enough.
Help us with your support
.
We need double
Help to be able to continue
being online,
we can't do it alone
. If you want our "
mission
" to continue, send your contribution, even symbolic. We do not insert annoying advertisements in our blog,
we do not ask for a subscription fee
, we rely only on your generosity.
If you believe in what we do and if you approve what we publish
send your contribution
, whatever you can/want. Support:
Padrepiodapietrelcina.com Devotional Blog dedicated to Padre Pio
.

Your little support is very valuable for everyone. Thank you
Padrepiodapietrelcina.Com | Spiritual and Devotional Blog dedicated to St Padre Pio of Pietrelcina
.