Prayer to the Guardian Angel – call upon your Guardian Angel to enlighten you and he will take you into his care – Angels are part of our everyday life; they're by our side every single day
---
Prayer to the Guardian Angel | Padre Pio's daily prayer
Oh, my Holy Guardian Angel, care for my soul and my body.
Enlighten my mind that I may better know the Lord my God and love Him with all my heart.
Watch over me when I pray so I won't give into life's distractions.
Sustain me with your counsel as I live as a righteous Christian, and help me to do good works with a giving heart.
Protect me from the cunning of the adversary, and lift me up when I am being tempted so I may win the fight against evil.
Stay beside me at all times; never stop watching over me until I'm called back to the Father's house, where we will praise together our Great God for all eternity. Amen
Your Guardian Angel is always by your side.
Offering a prayer to your Guardian Angel is the best way to communicate with him. Angels are part of our everyday life; they're by our side every single day.
Holy Guardian Angel, ever since my life began you were given to me as a protector and companion.
You help me in times of need, you're a comfort when I lose hope, you're the light that shines in the darkness of my abyss, and you're my mentor who leads me to good things.
I ask you, Holy Guardian Angel, to grant me all the strength of divine love, and all the strength of faith, so that I won't go astray. May your hand defend me from the adversary. I ask for the gift of Mary's humility, so I may flee from all danger and, as you guide me, reach the entrance to our Father's house in heaven.
Our powerful and eternal God, who has given us all a Guardian Angel, let me be filled with respect and love for those who, in your mercy, have been given to me, and who have been protected by Your powerful care. May I be worthy, one day, to return to our heavenly home and, along with him, behold Your infinite greatness. Amen
All rights reserved – © Padrepiodapietrelcina.com 2020
---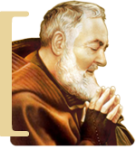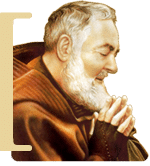 Dear brother,
Dear sister
if you are reading these pages you have felt the need to meet Padre Pio.
Every day we strive to be present online with this blog comforting and encouraging those who are in
difficult moment in their life
. This blog, unfortunately, involves high management costs and expenses.
Help us with your support
, our commitment alone is not enough.
We need double
Help to be able to continue
being online,
we can't do it alone
. If you want our "
mission
" to continue, send your contribution, even symbolic. We do not insert annoying advertisements in our blog,
we do not ask for a subscription fee
, we rely only on your generosity.
If you believe in what we do and publish
send your contribution
, whatever you can/want. Support:
Padrepiodapietrelcina.com Devotional Blog dedicated to Padre Pio
.

Your little support is of great value for everyone.
Thank you
Padrepiodapietrelcina.Com | Spiritual and Devotional Blog dedicated to St Padre Pio of Pietrelcina
.