Morning prayer to start the day right – Padre Pio, at the beginning of this new day, I offer this prayer to you
---
Morning Prayer to Padre Pio (to use daily)

Thanks to Our Lord in heaven – I praise You, my Lord, and I seek after You with all my heart. I thank You for creating me, and for having kept me safe through the night. As this day begins, I commit to you the actions that I will perform on this day; may they all be according to Your holy will. Protect me from evil and shower me with Your light. Look upon me and all my loved ones with great mercy. Grant us Your blessing.
Morning prayer to Padre Pio – Padre Pio, at the beginning of this new day, I offer this prayer to you. Padre Pio, I think of the signs of your suffering for us: your pierced hands and your wounded heart. I wish to thank you for this with a pure and grateful heart.
Padre Pio, shower me with your goodness, and let your love flourish in my heart. A love that dissolves weariness, a love that overcomes difficulties, a love that bolsters weaknesses, a love that dries your tears. Padre Pio, may this morning prayer be pleasing and an honor to you, because today I want to see the world with eyes that are full of hope, and live as an instrument of your love.
Padre Pio, I turn this new day over to you. Protect me from the dangers and the storms, and grant me strength to face all the responsibilities that await me. When I am tempted to give up, grant me the strength to move forward. Padre Pio, you know the problems and the worries that I will have to face today, and so I ask you to stay by my side.
Padre Pio, may I be able to see past outward appearances. Teach me to recognize Jesus in my brothers and to appreciate the beauty around me. Give me a selfless heart, that I may become a reflection and a witness of your goodness. Keep me safe from evil and sin; may your grace always be with me and my loved ones. Amen
All rights reserved – © padrepiodapietrelcina.com 2020
---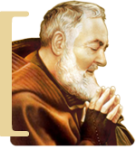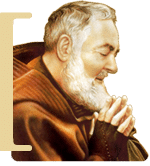 Dear brother, dear sister


if you are reading these pages you have felt the need to meet Padre Pio in your heart.
Every day, with this Blog, we comfort those who are experiencing a
difficult time
or want to strengthen their faith.
Unfortunately, management costs and expenses are high
. Our commitment alone is not enough.
Help us with your support
.
We need double
Help to be able to continue
being online,
we can't do it alone
. If you want our "
mission
" to continue, send your contribution, even symbolic. We do not insert annoying advertisements in our blog,
we do not ask for a subscription fee
, we rely only on your generosity.
If you believe in what we do and if you approve what we publish
send your contribution
, whatever you can/want. Support:
Padrepiodapietrelcina.com Devotional Blog dedicated to Padre Pio
.

Your little support is very valuable for everyone. Thank you
Padrepiodapietrelcina.Com | Spiritual and Devotional Blog dedicated to St Padre Pio of Pietrelcina
.