Padre Pio had a close relationship with his Guardian Angel – He considered him his protector and a messenger of love – Padre Pio was convinced that everyone could have the same visions he did.
---
The Story of Padre Pio and His Guardian Angel
It is said that when Padre Pio was very young, he began having visions of his guardian angel, and of Jesus and the Virgin Mary. Padre Pio was convinced that everyone could have the same visions he did.
Padre Pio had to battle the adversary at times, and did so through the help of his guardian angel. Padre Pio said that a few times the letters from his "spiritual father" had been made unreadable by the devil. To resolve this problem, he asked his guardian angel for help, who then suggested that he bless the letters with holy water before opening them.
Padre Pio always told about a time when he was being battered and tempted by the devil, and then he asked his guardian angel to intervene. He called for him out loud, but the angel didn't come and help.
Some time later, when the angel appeared in person to console him, Padre Pio asked why he hadn't helped him then. The angel replied that Jesus had allowed the devil's attack so that Padre Pio could become more like Him, so that Padre Pio, too, could have the experiences He had had in the wilderness, in the Garden of Gethsemane, and on the cross.
Thanks to his guardian angel's help, Padre Pio was able to understand every language in the world because his angel translated for him. Padre Pio wrote: "If the mission of your guardian angel is important, the mission of mine is certainly more so, because he also has to be my guide in translating languages." (Letter I, 304)
Padre Pio always appreciated that angels could function as "messengers," which is why he encouraged devotion to them. He said to his spiritual children: "If you need me, send me your guardian angel."
Friar Alessio Parente recounted that one day he went to Padre Pio to bring him some letters, but Padre Pio didn't pay him any attention. The friar tried to get his attention again, and Padre Pio turned to him and said: "Don't you see these angels around me? They've come to bring me messages from my spiritual children. It's urgent that I send them a response."
All rights reserved – © padrepiodapietrelcina.com 2020
---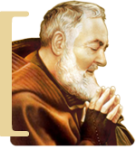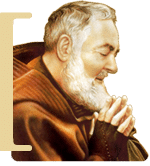 Dear brother, dear sister


if you are reading these pages you have felt the need to meet Padre Pio in your heart.
Every day, with this Blog, we comfort those who are experiencing a
difficult time
or want to strengthen their faith.
Unfortunately, management costs and expenses are high
. Our commitment alone is not enough.
Help us with your support
.
We need double
Help to be able to continue
being online,
we can't do it alone
. If you want our "
mission
" to continue, send your contribution, even symbolic. We do not insert annoying advertisements in our blog,
we do not ask for a subscription fee
, we rely only on your generosity.
If you believe in what we do and if you approve what we publish
send your contribution
, whatever you can/want. Support:
Padrepiodapietrelcina.com Devotional Blog dedicated to Padre Pio
.

Your little support is very valuable for everyone. Thank you
Padrepiodapietrelcina.Com | Spiritual and Devotional Blog dedicated to St Padre Pio of Pietrelcina
.