Padre Pio's final night, right before his death, is described in a simple and moving way by Padre Pellegrino from Sant'Elia a Pianisi – Here is his account of the final hours of Padre Pio's life.

---
The final night before Padre Pio passed
That evening about 9:00 p.m. on 22 September 1968 Padre Pio used the intercom to call Padre Pellegrino to come to his room. Padre Pellegrino, who took turns with Padre Onorato and Padre Mariano in assisting Padre Pio, was assigned to the evening duty that night. When Padre Pellegrino answered Padre Pio's call and entered his room, he found him in bed and noticed that his eyes were red with tears. Padre Pio had called him because he wanted to know what time it was. Padre Pellegrino dried Padre Pio's tears with a handkerchief and told him the time. After he checked to make sure that Padre Pio was all right, he went back to his room.
During the evening, Padre Pio called Padre Pellegrino to his room five or six times asking for small necessities. Every time he entered the room, he noticed tears in Padre Pio's eyes. Nevertheless, Padre Pio joked with him by calling him Don Pellegrino rather than the usual, "my son" or "my brother." He always called him Don Pellegrino whenever he wanted to make him laugh. Around midnight, Padre Pio asked Padre Pellegrino if he would stay on in his room with him, and he was happy to do so. Usually Padre Pellegrino sat in the armchair but on this night, Padre Pio wanted him to sit right beside his bed. He took Padre Pellegrino's hand in his and held it tightly. Padre Pio began to tremble like a frightened child. Every few minutes he wanted to know the time. Padre Pellegrino did not know what to make of it. It almost seemed as though he had an appointment with someone. He continued to wipe the tears from Padre Pio's eyes and to stay close beside him. A little after midnight, Padre Pio asked Padre Pellegrino if he had celebrated Mass. "Spiritual Father, it is too early to say Mass," Padre Pellegrino answered. "Today you will celebrate the Mass for me," Padre Pio said. Padre Pellegrino did not understand Padre Pio's words and replied, "But I say Mass every day for your intentions." "Today you will say Mass for my soul," Padre Pio said. The words sounded strange to Padre Pellegrino but he did not ask for an explanation. He then asked Padre Pellegrino to hear his confession. Padre Pellegrino was not his regular confessor but he had heard his confession many times in the past and he heard it on this night. "If the Lord calls me today, ask the Brothers to forgive me for all the trouble I have been to them and ask them and all my spiritual children to pray for my soul," Padre Pio said.
Padre Pellegrino assured him that he had no need to worry for he still had a long time yet to live. Nevertheless, Padre Pellegrino added, "But if it is indeed near the time of your death, I ask you for a last blessing for the Brothers and for all of your spiritual children." Padre Pio answered, "I bless them all and I ask you to have the superior give them this last blessing for me." Padre Pio then said that he wanted to renew his religious vows. At these words, Padre Pellegrino grew frightened because in the Capuchin tradition, the only time the vows of religious profession are renewed is when one is on his death bed. Padre Pio was putting everything in order, down to the last detail. Padre Pellegrino listened as Padre Pio renewed his vows of poverty, chastity and obedience. Padre Pio said: "I, Padre Pio of Pietrelcina, vow and promise to Almighty God, to the Blessed Virgin Mary, to our Holy Father, Saint Francis, to all the saints and to you, Father, to observe all the days of my life, the Rule of the Friars Minor, confirmed by Pope Honorius, and to live in obedience, without property, and in chastity." Padre Pellegrino spoke the response, "If you abide by this, on behalf of God, I promise you eternal life." Padre Pio said that he could not breathe well in bed and wanted to get up. "Are there any stars in the sky tonight?" Padre Pio asked. "Yes, indeed. The sky is studded with stars tonight," Padre Pellegrino replied. "Let us go to the veranda then and see," Padre Pio said.
Padre Pio had severe arthritis and at eighty-one years of age, his posture was stooped and bent. Because it was very painful for him to walk, he used a wheelchair most of the time. But on this night for some reason, he was able to stand up straight and he walked briskly and with great ease, to the veranda, needing no assistance. To Padre Pellegrino, he suddenly looked twenty years younger. When Padre Pio got to the veranda, he reached over and turned on the light. That was something he had not done in so long that Padre Pellegrino could not even remember. He knew from personal experience that unusual things often happened in Padre Pio's presence and he reasoned that this night was no exception. Padre Pio then began to stare intently at a particular area on the veranda. Padre Pellegrino could not understand what he was looking at with such concentration, but soon he would understand. He was staring at the exact place where the Capuchins would carry his lifeless body in just a few short hours. Suddenly Padre Pio began to feel very ill. He wanted to go back to his room but he was too weak to stand up. Padre Pellegrino quickly went to get a wheelchair. Meanwhile, all of the color had drained out of Padre Pio's face and he was growing weaker by the minute. He began to repeat the words, Jesus . . . Mary . . . over and over. All the while, his voice was growing fainter. Dr. Sala arrived in less than ten minutes and realized that Padre Pio was having a severe bronchial asthma attack. He gave him an injection as well as oxygen in an attempt to ease his breathing which had become difficult and labored.
By that time, Father Mariano, Brother Bill Martin, Father Carmelo and the other Capuchins had gathered in Padre Pio's room. Dr. Giovanni Scarale and Dr. Giuseppe Gusso soon arrived as well as Mario Pennelli, Padre Pio's nephew. While the doctors were doing their very best to help Padre Pio, the Capuchins knelt down beside him and prayed the Our Father, the Hail Mary, the prayer for a holy death, and the prayer to St. Joseph, patron of the dying. Together, the Capuchins repeated, "Jesus, Mary and Joseph, I give you my heart and my soul. Jesus, Mary and Joseph, assist me in my last agony. Jesus, Mary and Joseph, may my soul peacefully expire in You." The Holy Oils were prepared and Father Paolo gave Padre Pio the Last Rites. Padre Pio was fully conscious and was very much aware of all that was happening. His feet and hands were becoming very cold and he was perspiring heavily. When the doctors realized that he was having a heart attack, he was given an injection directly into his heart. With his eyes closed, he continued to repeat the words, Jesus . . . Mary . . . Toward the end, his lips formed the words but he could make no sound, not even a whisper. The Capuchins called out to him, "Padre, Padre!" He opened his eyes one last time and looked at his dear Brothers. At 2:30 a.m. with his Rosary clasped in his hands, Padre Pio gently bowed his head and died. Dr. Gusso, who had been present during Padre Pio's final moments, stated that it was the most gentle and beautiful passing that he had ever witnessed. Padre Pio had lived a holy life and he had died a holy death.
All rights reserved – © padrepiodapietrelcina.com 2020
---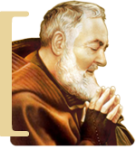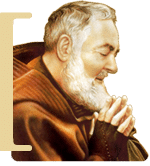 Dear brother, dear sister


if you are reading these pages you have felt the need to meet Padre Pio in your heart.
Every day, with this Blog, we comfort those who are experiencing a
difficult time
or want to strengthen their faith.
Unfortunately, management costs and expenses are high
. Our commitment alone is not enough.
Help us with your support
.
We need double
Help to be able to continue
being online,
we can't do it alone
. If you want our "
mission
" to continue, send your contribution, even symbolic. We do not insert annoying advertisements in our blog,
we do not ask for a subscription fee
, we rely only on your generosity.
If you believe in what we do and if you approve what we publish
send your contribution
, whatever you can/want. Support:
Padrepiodapietrelcina.com Devotional Blog dedicated to Padre Pio
.

Your little support is very valuable for everyone. Thank you
Padrepiodapietrelcina.Com | Spiritual and Devotional Blog dedicated to St Padre Pio of Pietrelcina
.