Prayer to ask Padre Pio for Protection and Safety – Padre Pio, protect my body, my mind, and my soul from evil snares, and drive away every evil and hateful person present in my daily life.
---
Prayer for Protection and Safety to Padre Pio

Padre Pio, faithful servant of God, you know the risks and dangers I face every day. Protect my body, my mind, and my soul from evil snares, and drive away every evil and hateful person present in my daily life. Padre Pio, by the graces granted to you I beg you to intercede for the protection of my home, my family, and my goods, and to take away all material or immaterial threats that could afflict me in any way.
Loving Padre Pio, look upon my fragility, console my heart, grant me your protection, and give me a strong faith. I beg you to protect me from tragedies, natural disasters, and unknown or incurable illnesses. Glorious Padre Pio, receive my prayer for protection and safety. Be the strength in which I find refuge, be a constant protection for all those who, lifting this prayer to heaven, invoke your name and your aid.
Intercede for all of us who call upon you with this prayer, for those who suffer injustice, for those who are rejected and marginalized, for those who feel defenseless and are alone and forgotten. Give me a charitable heart, teach me to be more generous, and help me to do good works with no thought for earthly compensation. Beloved Padre Pio, take pity on me, do not ignore my humble words, and drive away from me every possible evil. Amen
All rights reserved – © padrepiodapietrelcina.com 2020
---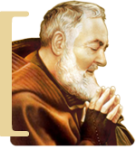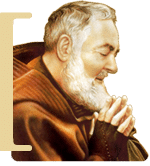 Dear brother, dear sister


if you are reading these pages you have felt the need to meet Padre Pio in your heart.
Every day, with this Blog, we comfort those who are experiencing a
difficult time
or want to strengthen their faith.
Unfortunately, management costs and expenses are high
. Our commitment alone is not enough.
Help us with your support
.
We need double
Help to be able to continue
being online,
we can't do it alone
. If you want our "
mission
" to continue, send your contribution, even symbolic. We do not insert annoying advertisements in our blog,
we do not ask for a subscription fee
, we rely only on your generosity.
If you believe in what we do and if you approve what we publish
send your contribution
, whatever you can/want. Support:
Padrepiodapietrelcina.com Devotional Blog dedicated to Padre Pio
.

Your little support is very valuable for everyone. Thank you
Padrepiodapietrelcina.Com | Spiritual and Devotional Blog dedicated to St Padre Pio of Pietrelcina
.