The Prayer of Abandonment, written by Charles de Foucauld, is one of the most beautiful prayers of faith, trust and surrender in the Christian spiritual heritage.
---
The prayer of Charles de Foucauld – Prayer of Abandonment
Father, I abandon myself into your hands. You are Lord of my life and you act in me through Jesus in the Holy Spirit. I thank you for all you have done and will do in me. I am ready to accept your divine plan, for I trust and hope in you alone.
You are joy and peace; you are sweetness for those who surrender themselves to you; you take away the darkness that envelops my life. Free me from every evil and grant me the joy of living a new life in peace and charity.
May your will be done in me, in my brethren, and in all creatures. You are my God and I can desire no other.Into your hands I commend my spirit, and I entrust it to you will all the ardor of my heart. Yes, my God and Lord, I give it to you because I love you immensely and I need your love.
I want to entrust myself completely to you; I fervently desire it, for you are my Father. Pour out your grace upon me; create in me a new spirit able to pray, listen, and serve. Grant that I may remain always at your side, for I am in need of you and of your love. Amen (inspired by the Prayer of of Abandonment by Charles Foucauld)
All rights reserved – © padrepiodapietrelcina.com 2020
---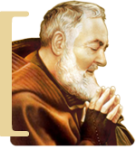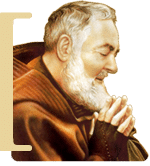 Dear brother, dear sister


if you are reading these pages you have felt the need to meet Padre Pio in your heart.
Every day, with this Blog, we comfort those who are experiencing a
difficult time
or want to strengthen their faith.
Unfortunately, management costs and expenses are high
. Our commitment alone is not enough.
Help us with your support
.
We need double
Help to be able to continue
being online,
we can't do it alone
. If you want our "
mission
" to continue, send your contribution, even symbolic. We do not insert annoying advertisements in our blog,
we do not ask for a subscription fee
, we rely only on your generosity.
If you believe in what we do and if you approve what we publish
send your contribution
, whatever you can/want. Support:
Padrepiodapietrelcina.com Devotional Blog dedicated to Padre Pio
.

Your little support is very valuable for everyone. Thank you
Padrepiodapietrelcina.Com | Spiritual and Devotional Blog dedicated to St Padre Pio of Pietrelcina
.