Padre Pio's Love for the Blessed Virgin Mary, Lady of Graces
Padre Pio nurtured his love for the Blessed Virgin Mary Mother of Jesus from the time he was a child. He would go to the church in Pietrelcina to greet and to pray to our Lady of Graces.
He always kept a little picture of this Madonna hanging on the wall of his cell. He would glance up at her with gratitude before eating his meager meals, before going to rest, and each time he returned to his cell weary and fatigued after hearing confessions. He was to look up at his little Mother with immense tenderness before closing his eyes in death.
Padre Pio's love for the Madonna was that of a friend who has faith, who believes and hopes. it was not just sentimental piety expressed in beautiful phrases, sighs, and sobs! His love for the Mother of God was the result of constant meditation, which had become his way of life.
Padre Pio contemplated Mary within God's plan for the salvation of mankind. By being close to her, he felt closer to Jesus.
On May 6, 1913, Padre Pio wrote to Fr. Agostino of San Marco in Lamis: "This most tender Mother in her great mercy, wisdom, and goodness, has punished me in a most exalted manner, by pouring so many great graces into my heart that when I am in her presence, or that of Jesus, I am compelled to exclaim, Where am I? Who is near me? I am all aflame. I feel myself held fast and bound to the Son by means of His Mother."
ST. PADRE PIO: DEVOTION TO MOTHER MARY
"Love the Blessed Virgin and help others love her." So he kept saying to everyone, and more than his words was the testimony of his deep devotion to the Heavenly Mother. Baptized in the church of St. Mary of the Angels of Pietrelcina with the name of Francis, like the Poverello of Assisi, he always cultivated a most tender love for the Blessed Virgin. Providence later led him here, to San Giovanni Rotondo, near Our Lady of Grace Sanctuary, where he remained until his death and where his mortal remains rest. All his life and his apostolate took place, therefore, under the maternal gaze of the Madonna and the power of her intercession. He even considered the Casa Sollievo della Sofferenza the work of Mary, "Health of the Sick." Therefore, dear friends, in the example of Padre Pio, today I also want to entrust you all to the maternal protection of the Mother of God.
All rights reserved – © padrepiodapietrelcina.com 2020
---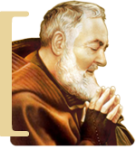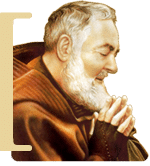 Dear brother, dear sister


if you are reading these pages you have felt the need to meet Padre Pio in your heart.
Every day, with this Blog, we comfort those who are experiencing a
difficult time
or want to strengthen their faith.
Unfortunately, management costs and expenses are high
. Our commitment alone is not enough.
Help us with your support
.
We need double
Help to be able to continue
being online,
we can't do it alone
. If you want our "
mission
" to continue, send your contribution, even symbolic. We do not insert annoying advertisements in our blog,
we do not ask for a subscription fee
, we rely only on your generosity.
If you believe in what we do and if you approve what we publish
send your contribution
, whatever you can/want. Support:
Padrepiodapietrelcina.com Devotional Blog dedicated to Padre Pio
.

Your little support is very valuable for everyone. Thank you
Padrepiodapietrelcina.Com | Spiritual and Devotional Blog dedicated to St Padre Pio of Pietrelcina
.