St. Padre Pio, you are our friend, consoler of our souls, and help of us sinners – to You we entrust our spirit that we may endure the pains we carry in our heart.
---
Prayer for Forgiveness and Discernment
Stay with me, Lord, because I am weak and I need Your strength, that I may not fall so often.
Stay with me, Lord, for You are my life, and without You, I am without meaning and hope.

Stay with me, Lord, for You are my light, and without You, I am in darkness.
Stay with me, Lord, to show me Your will.

Stay with me, Lord, so that I can hear Your voice and follow you.
Stay with me, Lord, for I desire to love You ever more, and to be always in Your company.

Stay with me, Lord, if You wish me to be always faithful to You.
Stay with me, Lord, for as poor as my soul is, I wish it to be a place of consolation for You, a dwelling of Your love.

Stay with me, Jesus, because in the darkness of life, with all its dangers, I need You.
Stay with me, Lord, I do not ask for divine consolations because I do not deserve them, but I only ask for the gift of Your Presence. Oh yes! I ask this of You.

Stay with me, Lord, for it is You alone I look for, Your Love, Your Grace, Your Will, Your Heart, Your Spirit, because I love You and ask no other reward but to love You more and more.
Grant that I may love You with all my heart while on earth, so that I can continue to love you perfectly throughout all eternity.
Amen
All rights reserved – © padrepiodapietrelcina.com 2020
---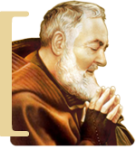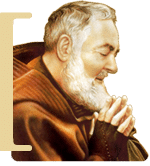 Dear brother, dear sister


if you are reading these pages you have felt the need to meet Padre Pio in your heart.
Every day, with this Blog, we comfort those who are experiencing a
difficult time
or want to strengthen their faith.
Unfortunately, management costs and expenses are high
. Our commitment alone is not enough.
Help us with your support
.
We need double
Help to be able to continue
being online,
we can't do it alone
. If you want our "
mission
" to continue, send your contribution, even symbolic. We do not insert annoying advertisements in our blog,
we do not ask for a subscription fee
, we rely only on your generosity.
If you believe in what we do and if you approve what we publish
send your contribution
, whatever you can/want. Support:
Padrepiodapietrelcina.com Devotional Blog dedicated to Padre Pio
.

Your little support is very valuable for everyone. Thank you
Padrepiodapietrelcina.Com | Spiritual and Devotional Blog dedicated to St Padre Pio of Pietrelcina
.