Capuchin friar Padre Pio, original name Francesco Forgione, also called St. Pio of Pietrelcina is one of the most beloved religious figures in Italy, and devotion to the saint has few equals in the world. St. Pio simply liked to describe himself as "a poor friar who prays."
---
Who really was Padre Pio?
St. Padre Pio (Francesco Forgione) was born the afternoon of May 25, 1887, to Giuseppa de Nunzio and Grazio Forgione in a humble house in Pietrelcina, a village in southern Italy. Padre Pio was still a child when the ecstasies and apparitions that were to accompany him for his whole life began.
In the courtyard of the church of Sant'Anna, while the neighborhood children were playing with abandon, Padre Pio spent his time sitting on the wall, praying and reading the Gospel. Prayer was his daily companion. In this place of peace and tranquility, by those ways that the Lord alone knows, Padre Pio met Brother Camillo from Sant'Elia a Pianisi, a Capuchin with a flowing black beard, whom his superiors had entrusted with collecting alms in the countryside.
His acquaintance with the alms-collecting friar marked the young man's life; at sixteen he decided to enter the convent and don the holy habit. For Padre Pio the choice wasn't easy, but the desire to obey the Lord's call and follow him under the banner of the poor saint of Assisi was quite strong. As a novice in Morcone and then a student in various other convents in the province of Sant'Angelo, he was for all an example to imitate, a blameless novice.
The years to come would be for Padre Pio years of sickness, pain, and physical suffering that would take him far from the convent. Although his poor state of health continued, he was ordained a priest on August 10, 1910 and celebrated his first Mass in his home church in Pietrelcina on August 14.
Those were very unhappy years, in which illness, like a cross placed by the Lord on the young friar's shoulders, kept him far from life in the convent, his fellow friars, and his teachers. They were years that he lived as a punishment before coming to understand that his mission would be fulfilled through suffering.
Padre Pio: a poor friar who prays
The cross was the light that illuminated Padre Pio's path; through his faithfulness and perseverance his steps did not waver even in moments of temptation and spiritual torment. Before the crucifix in the choir of the convent church of San Giovanni Rotondo, he received the stigmata on his hands, feet, and side, the signs of Christ's Passion, announced some time earlier by the vision of a transverberation.
These extraordinary gifts, united to charisms – healings, conversions, bilocation, ceaseless prayer, uninterrupted ministry as confessor – drew ever more numerous crowds of the faithful and the curious. At San Giovanni, Padre Pio wanted to build a work that would be a sign of love for the poor and suffering, and in 1947 he started construction of the "Casa Sollievo della Sofferenza," a large and advanced hospital, made possible by contributions from the faithful.
Following this desire, ever more numerous Prayer Groups were formed; they spread throughout the world together with the "stigmata friar's" reputation for holiness. On September 22, 1968, Padre Pio celebrated his last Mass at five in the morning, and the night of September 23, 1968, he died at 2:30 a.m., to be joined with God. Today St. Pio of Pietrelcina is devoutly honored with the saints in the entire Church.
| | |
| --- | --- |
| Born | Francesco Forgione 25 May 1887 – Pietrelcina, Benevento, Kingdom of Italy |
| Died | 23 September 1968 (aged 81) – San Giovanni Rotondo, Foggia, Italy |
| Beatified | 2 May 1999, Saint Peter's Square, Vatican City by Pope John Paul II |
| Canonized | 16 June 2002, Saint Peter's Square, Vatican City by Pope John Paul II |
| Major shrine | Sanctuary of Padre Pio of Pietrelcina, in San Giovanni Rotondo, Italy |
| Feast | 23 September |
All rights reserved – © padrepiodapietrelcina.com 2020
---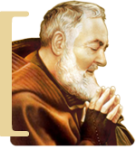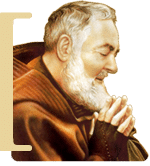 Dear brother, dear sister


if you are reading these pages you have felt the need to meet Padre Pio in your heart.
Every day, with this Blog, we comfort those who are experiencing a
difficult time
or want to strengthen their faith.
Unfortunately, management costs and expenses are high
. Our commitment alone is not enough.
Help us with your support
.
We need double
Help to be able to continue
being online,
we can't do it alone
. If you want our "
mission
" to continue, send your contribution, even symbolic. We do not insert annoying advertisements in our blog,
we do not ask for a subscription fee
, we rely only on your generosity.
If you believe in what we do and if you approve what we publish
send your contribution
, whatever you can/want. Support:
Padrepiodapietrelcina.com Devotional Blog dedicated to Padre Pio
.

Your little support is very valuable for everyone. Thank you
Padrepiodapietrelcina.Com | Spiritual and Devotional Blog dedicated to St Padre Pio of Pietrelcina
.