Who was Padre Pio of Pietrelcina also known as Saint Pio? Pope John Paul II passed on to us a wonderful summary of "who Padre Pio was" in his homily for Padre Pio's canonization.
---
Prayer and Charity, this is the synthesis of Padre Pio's teaching
For my yoke is easy and my burden light (Mt 11,30) – Jesus' words to his disciples are a magnificent summary of the whole life of Padre Pio of Pietrelcina. The "yoke" recalls the many trials that the humble Capuchin of San Giovanni Rotondo had to face. The life and mission of Padre Pio prove that difficulties and sorrows, if accepted out of love, are transformed into a privileged way of holiness, which opens onto the horizons of a greater good, known only to the Lord.
But may I never boast except in the cross of Our Lord Jesus Christ (Gal 6,14) – Is it not, precisely, the "glory of the Cross" that shines above all in Padre Pio? Throughout his life, he always sought greater conformity with the Crucified, since he was very conscious of having been called to collaborate in the work of redemption. In God's plan, the Cross constitutes the true instrument of salvation for the whole of humanity and the way to those who wish to follow him.
I am the Lord who acts with mercy (Jer 9,23) – Padre Pio was a generous dispenser of divine mercy, making himself available to all by welcoming them, by spiritual direction and, especially, by the administration of the sacrament of Penance. The ministry of the confessional, which is one of the distinctive traits of his apostolate.
You, Lord, are my only good– The profound root of so much spiritual fruitfulness can be found in that intimate and constant union with God. Padre Pio loved to repeat, "I am a poor Franciscan who prays" convinced that "prayer is the best weapon we have, a key that opens the heart of God". To prayer, Padre Pio joined an intense charitable activity, of which the "Home for the Relief of Suffering" (Casa Sollievo della Sofferenza) is an extraordinary expression. Prayer and charity, this is the synthesis of Padre Pio's teaching.
I bless you, Father, Lord of heaven and earth, because … these things … you have revealed to little ones (Mt 11,25) – How appropriate are these words of Jesus, when we think of them as applied to you, humble and beloved Padre Pio.
O Padre Pio, accompany us on our earthly pilgrimage toward the blessed homeland, where we hope to arrive in order to contemplate forever the glory of the Father, the Son and the Holy Spirit. Amen.
All rights reserved – © Padrepiodapietrelcina.com 2020
---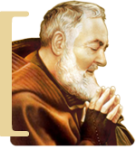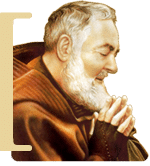 Dear brother,
Dear sister
if you are reading these pages you have felt the need to meet Padre Pio.
Every day we strive to be present online with this blog comforting and encouraging those who are in
difficult moment in their life
. This blog, unfortunately, involves high management costs and expenses.
Help us with your support
, our commitment alone is not enough.
We need double
Help to be able to continue
being online,
we can't do it alone
. If you want our "
mission
" to continue, send your contribution, even symbolic. We do not insert annoying advertisements in our blog,
we do not ask for a subscription fee
, we rely only on your generosity.
If you believe in what we do and publish
send your contribution
, whatever you can/want. Support:
Padrepiodapietrelcina.com Devotional Blog dedicated to Padre Pio
.

Your little support is of great value for everyone.
Thank you
Padrepiodapietrelcina.Com | Spiritual and Devotional Blog dedicated to St Padre Pio of Pietrelcina
.