Prayer to ask for and experience a Miracle, in a Time of Urgency, through Padre Pio's intercession.
How to ask for a miracle in a time of urgency – Recite this miraculous prayer to Padre Pio with a pure heart and sincere repentance to ask for the blessing of a miracle through Padre Pio's intercession.
---
Prayer to ask for the Blessing of a Miracle, in a Time of Urgency, through Padre Pio's intercession
Padre Pio, the Lord Omnipotent has made you a living witness of Christ crucified, and has marked your body with the wounds of the crucifixion of His Son. In His mercy, he has blessed you generously with gifts of the Spirit, and has granted you the privilege of performing wonders and miracles.
Padre Pio, for my faults I am unworthy to appear before the Divine Majesty to ask for a miraculous response to my urgent petition, for this in humility, I raise this prayer to you to ask for your intercession on my behalf. Dearest Padre Pio, faithful servant of God, you are well acquainted with the sad conditions of human existence – have mercy on me. Come to my aid.
I know that your heart is moved seeing me overcome with pain and desperation. And so, Padre Pio, I implore you to receive this prayer that I may have the blessing of a miracle for (express your request). Oh, Padre Pio, hope of those in need, look upon me with compassion and help me. Just one word from you is enough for our omnipotent God to have compassion on me and grant my request.
Padre Pio, a Saint among men, erase this sadness from my heart, surround me with your light, and make my prayers worthy so they may merit His lasting blessings. Give me a charitable heart, teach me selflessness, and help me to do good works with no thought for earthly compensation. In prayer, and with great trust, I put my life in your hands, Padre Pio, because I know with certainty that you will intercede with the Most High God for the blessing that I need. I know that you will be at my side to help me accept His will. Amen
All rights reserved – © Padrepiodapietrelcina.com 2020
---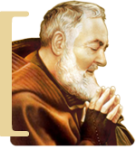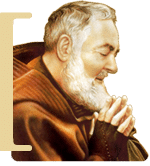 Dear brother,
Dear sister
if you are reading these pages you have felt the need to meet Padre Pio.
Every day we strive to be present online with this blog comforting and encouraging those who are in
difficult moment in their life
. This blog, unfortunately, involves high management costs and expenses.
Help us with your support
, our commitment alone is not enough.
We need double
Help to be able to continue
being online,
we can't do it alone
. If you want our "
mission
" to continue, send your contribution, even symbolic. We do not insert annoying advertisements in our blog,
we do not ask for a subscription fee
, we rely only on your generosity.
If you believe in what we do and publish
send your contribution
, whatever you can/want. Support:
Padrepiodapietrelcina.com Devotional Blog dedicated to Padre Pio
.

Your little support is of great value for everyone.
Thank you
Padrepiodapietrelcina.Com | Spiritual and Devotional Blog dedicated to St Padre Pio of Pietrelcina
.