Prayer to Padre Pio for those Suffering Mental Illness – Whether they be friends, family, coworkers, or just someone you care about, recite this prayer to Padre Pio to combat depression and mental illness, and to ask for their thoughts to be guided towards a positive outlook on the future
– If you'd like pray and ask Padre Pio to Heal YOU from Depression – click here
---
Prayer for those Suffering Mental Illness
Padre Pio, I come before you in prayer to ask you to help someone very dear to me who has sunk deep into the abyss of depression. Sadly, this person is becoming more and more detached from reality, closed off from everyone, and absorbed by his/her negative thoughts. His/her feelings of misery and sense of failure are driving him/her into the depths of hopelessness.
Dearest Padre Pio, I come to you in this time of need. Help me lift up those who suffer from depression or mental health disorders. Remove their feelings of guilt and their thoughts of death. Fill the emptiness in their soul with serenity. Soothe their mind, renew their joy, and may sadness and despair be far removed.
Loving Padre Pio, let them overcome the pain of past wounds and have a newfound faith in the future. Glorious Padre Pio, through your intercession with our Almighty God and by the power of the Holy Spirit, you have performed miracles of healing and wondrous works. Now, through your kindness, help [name]. Beloved Padre Pio, soothe his/her suffering, let his/her smile shine once again, let his/her tormented soul be still, and, according to the Lord's will, let all of us feel the joy of being healed from depression and psychological disorders. Amen
All rights reserved – © padrepiodapietrelcina.com 2020
---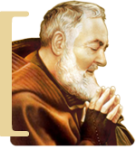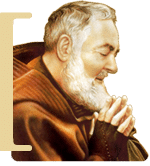 Dear brother, dear sister


if you are reading these pages you have felt the need to meet Padre Pio in your heart.
Every day, with this Blog, we comfort those who are experiencing a
difficult time
or want to strengthen their faith.
Unfortunately, management costs and expenses are high
. Our commitment alone is not enough.
Help us with your support
.
We need double
Help to be able to continue
being online,
we can't do it alone
. If you want our "
mission
" to continue, send your contribution, even symbolic. We do not insert annoying advertisements in our blog,
we do not ask for a subscription fee
, we rely only on your generosity.
If you believe in what we do and if you approve what we publish
send your contribution
, whatever you can/want. Support:
Padrepiodapietrelcina.com Devotional Blog dedicated to Padre Pio
.

Your little support is very valuable for everyone. Thank you
Padrepiodapietrelcina.Com | Spiritual and Devotional Blog dedicated to St Padre Pio of Pietrelcina
.