Fertility Prayer to Padre Pio to have a Baby (boy or girl) – How to ask Padre Pio for the blessing of conceiving a baby – Pray this prayer to ask for and receive the blessing of having a baby through Padre Pio's intercession.
How to ask for the blessing of pregnancy and of motherhood – Call on Padre Pio through this fertility prayer to receive the blessing of pregnancy and of motherhood.
– Powerful Prayer for a High Risk Pregnancy – click here

---
Prayer to Have a Baby | A Fertility Prayer to Padre Pio
Oh Lord, you've told us to "be fruitful and multiply". May our love, made holy by the sacrament of matrimony, bear fruit. Let the Spirit become flesh in my womb, give me the gift of pregnancy, and let me bring a child into the world. Oh dearest Padre Pio, you know my heart and you know that I have so much love to offer. Come to my aid; I truly desire to be a mother and to bring up children, in joy and happiness, with our Lord, Jesus Christ.
Sadly, month after month, my precious hopes haven't become reality and our marriage has yet to see the blessing of a baby.
Padre Pio, I lift up my prayer to you, in humility, to ask for the blessing to be able to conceive a baby (boy or girl) and the gift of motherhood. It is so painful for me and my husband to not be able to have a family. Padre Pio, this day I ask you in prayer for fertility in the womb.
Padre Pio, ask the Lord to send one of His bright and happy souls into the life of me and my family. Intercede for me with the creator of life that He may make my womb fruitful, and that I may receive the blessing of having a baby and bringing a child into the world.
Oh, most holy Mary, you who had the privilege of being Jesus' devoted mother, come to my aid and turn your loving eyes towards me. Strengthen my faith, give me a generous heart, teach me to be selfless, and help me become more charitable with my brothers who are most in need. Padre Pio, let my prayer be worthy to be heard. Let His blessing descend upon me and my family. Glory be to the Father, the Son, and the Holy Spirit, throughout all time. Amen
All rights reserved – © padrepiodapietrelcina.com 2020
---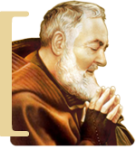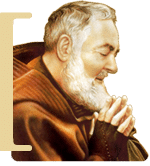 Dear brother, dear sister


if you are reading these pages you have felt the need to meet Padre Pio in your heart.
Every day, with this Blog, we comfort those who are experiencing a
difficult time
or want to strengthen their faith.
Unfortunately, management costs and expenses are high
. Our commitment alone is not enough.
Help us with your support
.
We need double
Help to be able to continue
being online,
we can't do it alone
. If you want our "
mission
" to continue, send your contribution, even symbolic. We do not insert annoying advertisements in our blog,
we do not ask for a subscription fee
, we rely only on your generosity.
If you believe in what we do and if you approve what we publish
send your contribution
, whatever you can/want. Support:
Padrepiodapietrelcina.com Devotional Blog dedicated to Padre Pio
.

Your little support is very valuable for everyone. Thank you
Padrepiodapietrelcina.Com | Spiritual and Devotional Blog dedicated to St Padre Pio of Pietrelcina
.