A Powerful Prayer to Padre Pio for a High Risk Pregnancy – If your pregnancy is difficult or high-risk, offer this prayer to Padre Pio, especially if you or your baby are in danger or there are any complications while you're expecting.
– Prayer to Padre Pio to have a baby and motherhood – click here
---
Prayer for help with a high-risk pregnancy or complications.
Lord, you who placed life in my womb through this pregnancy, reach out Your hand and grant me Your blessing. I offer You thanks with all my heart for having chosen me as an instrument of Your love and for having trusted me with such an important role: that of being a mother and taking part in Your design for creation. Grant me the joy of living according to Your will, and cultivate a pure, selfless, and kind maternal spirit in me.
Throughout the weeks of my pregnancy, let the work that You began be brought to completion. Protect both of us and carefully watch over the fruit of the love which, through your grace, You enabled me to conceive. May this child be born and then consecrated in the waters of baptism, and live on the earth as a Christian, testifying to Your love.
Padre Pio, I prayed so much for the wonder of life to form inside me. You know the joy that I felt when I first felt the baby move, the knowledge that my body had become a temple for a new life. Sadly Padre Pio, the being I am carrying is in danger; my pregnancy is at risk of coming to an early end. Padre Pio, I offer this prayer to you for help with my difficult, high-risk pregnancy. You know my affliction; help me in this moment of danger, that my joy may not become tears.
Glorious Padre Pio, intercede with the Lord of Life that I may not miss out on the happiness of holding in my arms a living sign of His merciful love. Give me a charitable heart, teach me to be more generous, and help me to do good works with no thought for earthly compensation. O Padre Pio, look upon my pregnancy with love and bless my joyful hopes. Let the fruit of my womb grow in virtue and health at your hand, and the hand of our Lord in heaven. Amen
All rights reserved – © padrepiodapietrelcina.com 2020
---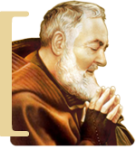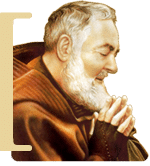 Dear brother, dear sister


if you are reading these pages you have felt the need to meet Padre Pio in your heart.
Every day, with this Blog, we comfort those who are experiencing a
difficult time
or want to strengthen their faith.
Unfortunately, management costs and expenses are high
. Our commitment alone is not enough.
Help us with your support
.
We need double
Help to be able to continue
being online,
we can't do it alone
. If you want our "
mission
" to continue, send your contribution, even symbolic. We do not insert annoying advertisements in our blog,
we do not ask for a subscription fee
, we rely only on your generosity.
If you believe in what we do and if you approve what we publish
send your contribution
, whatever you can/want. Support:
Padrepiodapietrelcina.com Devotional Blog dedicated to Padre Pio
.

Your little support is very valuable for everyone. Thank you
Padrepiodapietrelcina.Com | Spiritual and Devotional Blog dedicated to St Padre Pio of Pietrelcina
.