Prayer to Padre Pio for those who are sick.
How do you pray for someone who is sick? Ask for Padre Pio's intercession through this prayer to commend to him those who are sick and infirm.
Prayer to commend those who are sick into Padre Pio's care
Padre Pio, you dedicated your life to the care of the sick with tenderness and compassion; you served Christ Jesus through them. From your place in heaven, o Padre Pio, receive my prayer for those who are sick. Come to the aid of all sick people in the world, support those who have lost all hope of recovery, and comfort those who cry out and shed tears of pain.
Glorious Padre Pio, throughout your life you experienced disease and illness; and so, console all those who come to you through prayer in their moment of need. Dearest Padre Pio, through your loving presence, encourage those who are sick and who have sunk into despair because of their incurable illness. Through your loving kindness, take into your care all those who help and cure people who are sick, who comfort them and lift them up in hope.
Beloved Padre Pio, guide us in our prayers for our brothers and sisters who are sick, especially for those who don't have or who can't afford medical care. May their illness help us to understand more fully the meaning of life and love. Strengthen my resolve to follow you in love, to be more generous, and to do good works. Help us to accept the plans that God has for each one of us.
Loving Padre Pio, purify our souls and make our prayers for the sick worthy to be heard in heaven – Intercede for us before our merciful Lord for [name]. Give him/her relief from all ills, and give him/her peace and courage, and if it be the Lord's will, grant unto us all the joy of his/her recovery. Amen
All rights reserved – © padrepiodapietrelcina.com 2020
---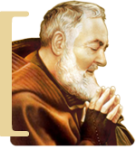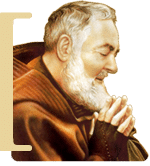 Dear brother, dear sister


if you are reading these pages you have felt the need to meet Padre Pio in your heart.
Every day, with this Blog, we comfort those who are experiencing a
difficult time
or want to strengthen their faith.
Unfortunately, management costs and expenses are high
. Our commitment alone is not enough.
Help us with your support
.
We need double
Help to be able to continue
being online,
we can't do it alone
. If you want our "
mission
" to continue, send your contribution, even symbolic. We do not insert annoying advertisements in our blog,
we do not ask for a subscription fee
, we rely only on your generosity.
If you believe in what we do and if you approve what we publish
send your contribution
, whatever you can/want. Support:
Padrepiodapietrelcina.com Devotional Blog dedicated to Padre Pio
.

Your little support is very valuable for everyone. Thank you
Padrepiodapietrelcina.Com | Spiritual and Devotional Blog dedicated to St Padre Pio of Pietrelcina
.