Prayer for the Sick and Suffering – Prayer in faith to entrust Padre Pio with the care of those who are Sick, who are Suffering, and for those who are ill.
How to pray for the healing of the sick?
– Recite this prayer to Padre Pio for your loved one who is sick and suffering.
How to entrust the care of the sick and suffering to Padre Pio's care?
– Through this prayer, ask Padre Pio to intercede in the care of those who are sick and who are suffering.
Prayer for those who are sick and suffering to Padre Pio
Padre Pio, you know our hearts, our worries, and our hopes. You've experienced in your own life the trials of sickness and suffering. Watch over the events of our lives in love.
Oh, Padre Pio, you dedicated your life, with tenderness and compassion, to the healing of those who are sick and who are suffering. Through them, you served Christ Jesus.
Padre Pio, from your place in heaven, give help to all those in the world who are sick. Give strength to those who have lost all hope of healing, and comfort those who cry out and shed tears of pain.
Dry their tears, so their pain can become a path of hope. It is almost unbearable to watch them suffer.
Padre Pio, by your loving presence, lift up those who have sunken into the hopelessness of an incurable disease; those who are wasting away, in awful agony, day after day.
In the anguish of my heart, I turn to you, Padre Pio; I plead with you to grant them a full recovery.
Padre Pio, bestow an abundance of blessings upon all who are involved in the care of the sick and the suffering. Comfort them in their grief and lift them up in hope.
Purify our souls and make our prayers worthy to be heard. Strengthen our trust in the Lord, Jesus Christ. Our doubts and uncertainties over others' healing makes our faith waver.
Padre Pio, teach us to love not only our loved ones who are sick, to not only pray for those whom we love. Give us an unselfish heart. Teach us true generosity: giving without concern for an earthly reward.
May this sickness help us to better understand the meaning of life and love, and to accept the plans which God has for each one of us.
Padre Pio, by your intercession with our omnipotent God, and through the power of the Holy Spirit, you have performed miraculous works of healing. At this time, take [name] into your care.
Soothe [his/her] suffering, give [him/her] peace and courage. And, if it be the Lord's will, grant us all the joy of [his/her] healing. Amen
All rights reserved – © Padrepiodapietrelcina.com 2020
---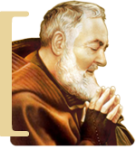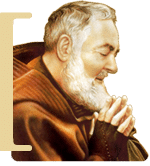 Dear brother,
Dear sister
if you are reading these pages you have felt the need to meet Padre Pio.
Every day we strive to be present online with this blog comforting and encouraging those who are in
difficult moment in their life
. This blog, unfortunately, involves high management costs and expenses.
Help us with your support
, our commitment alone is not enough.
We need double
Help to be able to continue
being online,
we can't do it alone
. If you want our "
mission
" to continue, send your contribution, even symbolic. We do not insert annoying advertisements in our blog,
we do not ask for a subscription fee
, we rely only on your generosity.
If you believe in what we do and publish
send your contribution
, whatever you can/want. Support:
Padrepiodapietrelcina.com Devotional Blog dedicated to Padre Pio
.

Your little support is of great value for everyone.
Thank you
Padrepiodapietrelcina.Com | Spiritual and Devotional Blog dedicated to St Padre Pio of Pietrelcina
.