Prayer to Padre Pio to fight against Cancer or a Tumor, for anyone affected by a diagnosis of cancer.
How to fight against cancer, a tumor or a diagnosis of cancer – Recite this prayer for Cancer Patients to ask Padre Pio to intercede, to fight and defeat your loved one's cancer.
– If you'd like pray and ask Padre Pio to Heal YOU from cancer – click here
---
Prayer against Cancer or a Tumor
Padre Pio, you are a beloved witness on earth of Jesus Christ, the devoted Son of the Blessed Virgin Mary. I come before you in prayer to ask for your intercession with our almighty God for [name]. May he/she be freed from the cancer that afflicts and torments his/her life. O Padre Pio, ever since he/she was diagnosed with cancer it feels as though my whole world has collapsed. I never thought it could happen to him/her.
Padre Pio, in this dark hour, I seek you within my heart. I need your help – stay with me. My dear [name]'s health is grave. I am there for him/her as much as is humanly possible, but, Padre Pio, I feel powerless and in agony because his/her life is not in my hands. Beloved Padre Pio, I leave [name] in your hands. I don't know what the future holds, but I'm certain that you will be beside him/her, helping along the way.
Glorious Padre Pio, I put my hope in you. Don't let the cancer continue to spread inside him/her. Ease his/her pain, lighten his/her suffering from the side effects of the treatment. Sustain him/her as he/she faces the battle against this tumor, with courage and peace within. You have performed miraculous works of healing, through intercession with our almighty God. Hear my petition; Padre Pio, I ask you for the gift of [name] being healed from cancer. Give him/her the hope to live a long life, healed from this illness, together with me, his/her loved ones, and his/her family. May he/she return to life as usual.
Loving Padre Pio, take his/her hand and walk with him/her along the path toward overcoming this terrible tumor; strengthen his/her faith throughout this battle with cancer. Padre Pio, I seek your help. Remove all suffering from my heart and purify me from sin. Let my prayers be worthy of being heard high in the heavens. I promise to follow you in love, to be more generous, and to do good works. May all honor and glory be, through all eternity, to God the Father, the Son, and the Holy Spirit, whose greatness is reflected in you, Padre Pio. Amen
All rights reserved – © padrepiodapietrelcina.com 2020
---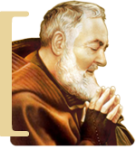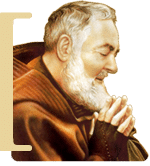 Dear brother, dear sister


if you are reading these pages you have felt the need to meet Padre Pio in your heart.
Every day, with this Blog, we comfort those who are experiencing a
difficult time
or want to strengthen their faith.
Unfortunately, management costs and expenses are high
. Our commitment alone is not enough.
Help us with your support
.
We need double
Help to be able to continue
being online,
we can't do it alone
. If you want our "
mission
" to continue, send your contribution, even symbolic. We do not insert annoying advertisements in our blog,
we do not ask for a subscription fee
, we rely only on your generosity.
If you believe in what we do and if you approve what we publish
send your contribution
, whatever you can/want. Support:
Padrepiodapietrelcina.com Devotional Blog dedicated to Padre Pio
.

Your little support is very valuable for everyone. Thank you
Padrepiodapietrelcina.Com | Spiritual and Devotional Blog dedicated to St Padre Pio of Pietrelcina
.