Prayer to Padre Pio for those who Suffer – Dear Padre Pio, I humbly turn to you in prayer to ask for relief from all my suffering. Please intervene with your powerful intercession on behalf of everyone in the world who is suffering.
Prayer for those who Suffer | Prayer for relief from suffering
Padre Pio, you know our hearts, our worries, and our hopes. You experienced the trials of illness and suffering in your own life; we ask you now to watch over our day-to-day lives with love. Oh Padre Pio, console those who are suffering and wasting away in awful agony, give courage to those in darkness and those who have lost their sense of joy in living.
Dear Padre Pio, receive my prayer for those who suffer. You who bind wounds and heal broken hearts, dry their tears, that their pain may be changed into constant prayer along a path of hope. Lift up those who have been brought low by their suffering; it is so difficult to watch them suffer. Loving Padre Pio, protect from all ills the people who are responsible for helping people who suffer, who console them in their anguish, and lift them up in hope.
Glorious Padre Pio, teach us to love our brothers and sisters who are suffering around the world, and to not only pray for those who are dear to us. Give us a selfless heart, and teach us true charity, to give without concern for worldly reward. Strengthen our faith in Christ Jesus, our Lord, because doubt and uncertainty cause our faith to waver. Beloved Padre Pio, through your intercession before Almighty God, and by the power of the Holy Spirit, you have worked miracles of healing and grace. Please relieve [name]'s suffering. Ease his/her suffering, grant him/her consolation and peace, and if it be the Lord's will, grant all of us the joy of his/her recovery. Amen
All rights reserved – © padrepiodapietrelcina.com 2020
---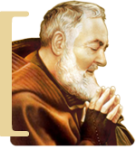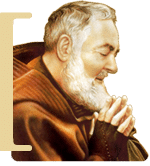 Dear brother, dear sister


if you are reading these pages you have felt the need to meet Padre Pio in your heart.
Every day, with this Blog, we comfort those who are experiencing a
difficult time
or want to strengthen their faith.
Unfortunately, management costs and expenses are high
. Our commitment alone is not enough.
Help us with your support
.
We need double
Help to be able to continue
being online,
we can't do it alone
. If you want our "
mission
" to continue, send your contribution, even symbolic. We do not insert annoying advertisements in our blog,
we do not ask for a subscription fee
, we rely only on your generosity.
If you believe in what we do and if you approve what we publish
send your contribution
, whatever you can/want. Support:
Padrepiodapietrelcina.com Devotional Blog dedicated to Padre Pio
.

Your little support is very valuable for everyone. Thank you
Padrepiodapietrelcina.Com | Spiritual and Devotional Blog dedicated to St Padre Pio of Pietrelcina
.