When did Padre Pio die? Padre Pio's death occurred on September 23rd, 1968
Where did Padre Pio die? Padre Pio died in the Convent of San Giovanni Rotondo (Italy)
---
Commemoration of the death of Padre Pio
Padre Pio lived a holy life and died a holy death on September 23rd, 1968. Padre Pio passed away while praying – He prayed in times of temptation, times of joy, times of change, and in times of sickness. God filled his whole existence.
The following is the extraordinary story of his final days – Padre Pio's health was getting worse each passing day. In 1968, the year he died, the director of the convent, who knew the condition of Padre Pio's health, encouraged him to rest and to not tire himself so much in the confessional. Padre Pio didn't even take the suggestion into consideration. Even in the last days of his life, even though he was extremely ill, he insisted on hearing the confessions of the many believers who had come from around the world. The convent's leader said, "He wanted to die while praying and while performing his ministry."
When he said good night, Padre Pio often asked his Capuchin brothers to pray to the Lord for him. Padre Pio wished to return to his true home, heaven, where he could stay with God for eternity.
"San Giuseppe is beautiful!" With this exclamation, Padre Pio concluded his earthly pilgrimage.
Anniversary of Padre Pio's death on September 23rd – In the time leading up to his death, Padre Pio's brothers noticed how he would pause each day for a long time at the portrait of San Giuseppe, in prayer and contemplation. Only later did they learn that Padre Pio had prayed to San Giuseppe every day, asking for a happy death.
Some of the Capuchin friars stated that in the weeks that preceded Padre Pio's death, on September 23rd, 1968 the Convent of San Giovanni Rotondo seemed completely different, that people felt supernatural sensations – the hallways, the rooms, the refectory, and the convent itself seemed to be overcome by that which later was described as a "spiritual silence."
All rights reserved – © padrepiodapietrelcina.com 2020
---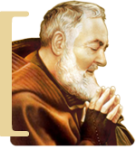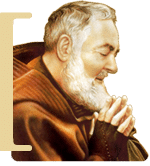 Dear brother, dear sister


if you are reading these pages you have felt the need to meet Padre Pio in your heart.
Every day, with this Blog, we comfort those who are experiencing a
difficult time
or want to strengthen their faith.
Unfortunately, management costs and expenses are high
. Our commitment alone is not enough.
Help us with your support
.
We need double
Help to be able to continue
being online,
we can't do it alone
. If you want our "
mission
" to continue, send your contribution, even symbolic. We do not insert annoying advertisements in our blog,
we do not ask for a subscription fee
, we rely only on your generosity.
If you believe in what we do and if you approve what we publish
send your contribution
, whatever you can/want. Support:
Padrepiodapietrelcina.com Devotional Blog dedicated to Padre Pio
.

Your little support is very valuable for everyone. Thank you
Padrepiodapietrelcina.Com | Spiritual and Devotional Blog dedicated to St Padre Pio of Pietrelcina
.