The stigmata of Padre Pio are the visible signs of Christ's wounds – The stigmata appeared on Padre Pio on September 20th, 1918, and remained until his death.
The Stigmata of Padre Pio, the visible signs of Christ's wounds

On September 7th, 1910, in his first year of ministry, Padre Pio received the first stigmata beneath the elm tree in Piana Romana. In a letter he wrote to his spiritual leader, he describes the incident: "In the center of my hands, a red spot appeared, about the size of a coin, and with it, an intense pain in the soles of my feet." This pain in his hands and feet were the first occurance of the stigmata, even though they were not visible at the time.
When did the stigmata visibly appear on Padre Pio?
Padre Pio's stigmata became visible on September 20th, 1918. Padre Pio had finished celebrating his morning mass and was having a moment of prayer. While his mind was caught up in meditating on the passion and death of Jesus, and in the painful matters of the holy rosary, a heavenly being appeared to him. The hands, feet, and side of this heavenly being had been pierced and were spilling blood. Padre Pio was fully engulfed in this intense experience; exhausted, he fell asleep.
When he awoke, he felt an incredible pain in the center of his hands and feet, and he saw that the pain was due to bloody wounds about the size of a coin two centimeters wide. Padre Pio told his spiritual director: "I was praying before Christ crucified, and I felt myself being carried away, bit by bit, into an ever-growing state of serenity. It was like a gentle sleep that I rejoiced in while I prayed. A great peace came over me. At one point, a mysterious being appeared before me, like the one I had seen the evening of August 5th. The only difference was that there was blood flowing from this one's hands, feet, and side. He didn't say a word, and then disappeared. When I came to, I was on the ground, wounded."
Why did Padre Pio have the stigmata?
The visible stigmata are a divine mark; they are the marks of Christ's wounds. Padre Pio was a living icon used by God to show us the suffering of his Son, Jesus Christ, who underwent crucifixion and death for the love of His people. It's said that Padre Pio didn't like to show his stigmata; in fact, he always wore gloves and closed shoes, as seen in the majority of the photographs of him in public settings. These wounds were examined by doctors and experts, but no one was able to provide a scientific explanation.
What are the stigmata (wounds) of Padre Pio?
The stigmata appeared on Padre Pio on September 20th, 1918, and remained until his death. The stigmata stayed the same for 50 years and never became infected, even though there were bloody, open wounds. It should be noted that, at the time, antibiotics did not exist, and their availability for purchase began around 1945. Even today, doctors can't explain why they didn't get infected. Even though he had open wounds on his feet, Padre Pio was able to walk normally and carry out all his regular daily activities.
Another extraordinary event took place after Padre Pio celebrated his final mass. He passed away only a few hours later, and the stigmata had disappeared. Again, no scientist has been able to give an explanation for this. In his letters, Padre Pio speaks of a love for God and his neighbor: "Yes, my soul is wounded with love for Jesus. I am sick with love; I continually experience the grievous pain of that fire that burns but does not consume".
All rights reserved – © padrepiodapietrelcina.com 2020
---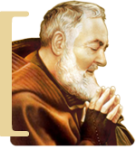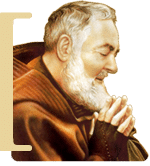 Dear brother, dear sister


if you are reading these pages you have felt the need to meet Padre Pio in your heart.
Every day, with this Blog, we comfort those who are experiencing a
difficult time
or want to strengthen their faith.
Unfortunately, management costs and expenses are high
. Our commitment alone is not enough.
Help us with your support
.
We need double
Help to be able to continue
being online,
we can't do it alone
. If you want our "
mission
" to continue, send your contribution, even symbolic. We do not insert annoying advertisements in our blog,
we do not ask for a subscription fee
, we rely only on your generosity.
If you believe in what we do and if you approve what we publish
send your contribution
, whatever you can/want. Support:
Padrepiodapietrelcina.com Devotional Blog dedicated to Padre Pio
.

Your little support is very valuable for everyone. Thank you
Padrepiodapietrelcina.Com | Spiritual and Devotional Blog dedicated to St Padre Pio of Pietrelcina
.