The Feast day of St Padre Pio of Pietrelcina is held on September 23rd, which is his Memorial day as well as the day of his entrance into heaven.
---
Saint Pio of Pietrelcina is celebrated on September 23rd – his Memorial day as well as the day of his "entrance into heaven"
Padre Pio's saint day is celebrated on September 23rd. Padre Pio got the whole world's attention through his charisma and his spiritual gifts: the stigmata, the enchanting scent he gave off, the prophecies, the gift of knowing hearts, and converting of people through his prayers. Saint Pio lived his entire religious life in obedience, prayer, and humility.
Life in the convent for Padre Pio was a long, painful ordeal that he underwent as he participated in Christ's suffering for the salvation of people's souls: «Jesus, my heart's desire and my life, today as I raise you up in trembling hands, in a mystery of love, may I be, with you, for the world, Way, Truth and Life, and for you a holy priest, a perfect victim.»
Through his letters to his spiritual leaders, we discover the passion that St. Padre Pio of Pietrelcina had for humanity and for God: «I am devoured by the love for God and the love for the neighbor." – "I am only sure of one thing: that my heart loves a lot; it's made to love. »
His faith in the love of God is what drove Saint Pio to put his life on the line as a ransom for his brothers and sisters. « Either forgive these people or erase me from the book of life.» Padre Pio was beatified on May 2nd, 1999 and canonized on June 16th, 2002, by Pope John Paul II.
When do we celebrate Saint Pio of Pietrelcina? September 23rd is the Feast Day of Saint Pio of Pietrelcina, his memorial day as well as the day of his entrance into heaven.
All rights reserved – © padrepiodapietrelcina.com 2020
---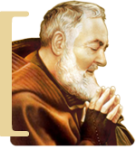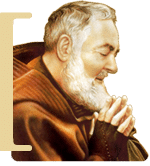 Dear brother, dear sister


if you are reading these pages you have felt the need to meet Padre Pio in your heart.
Every day, with this Blog, we comfort those who are experiencing a
difficult time
or want to strengthen their faith.
Unfortunately, management costs and expenses are high
. Our commitment alone is not enough.
Help us with your support
.
We need double
Help to be able to continue
being online,
we can't do it alone
. If you want our "
mission
" to continue, send your contribution, even symbolic. We do not insert annoying advertisements in our blog,
we do not ask for a subscription fee
, we rely only on your generosity.
If you believe in what we do and if you approve what we publish
send your contribution
, whatever you can/want. Support:
Padrepiodapietrelcina.com Devotional Blog dedicated to Padre Pio
.

Your little support is very valuable for everyone. Thank you
Padrepiodapietrelcina.Com | Spiritual and Devotional Blog dedicated to St Padre Pio of Pietrelcina
.