Pietrelcina: The birthplace of Padre Pio.
Pietrelcina is a small picturesque town made of wide streets, pretty homes, and very well cured gardens. There are ancient signs of its remote origin and of places that recollect the birth and life of the Holy Monk.
The ancient portal reminds one of the original barons of the town and to the side the archway of the Madonna: there are three majolicas representing with artistic ingenuity Saint Michael, the Crowned Virgin and Saint Anthony.
At the bottom, the "castle district", with its century old homes constructed on thin lime hard coarse stones which are resting on a dark layer of rocks, this is the soul of the old village, the houses lean one against the other and are protected by sun faded and thinned by the rain doors, just like the chapped hands of its inhabitants, with small streets and alley ways, steep descents, a square called the "larghetto of the Prince", and a small church square in front of the church of Saint Ann.
In this peasant and profoundly Christian environment was born on the 25th of May 1887, Francesco, fourth son of the Grazio Forgione and Maria Giuseppa De Nuzio family. Francesco Forgione lived the years of his youth in this serene and tranquil environment so that it would marked him in an extraordinary way, sharing his time between church, home and the fields. His parents, like a large part of their townsmen, toiled the land, took care of the animals and breathed the air of the countryside.
In this rural environment there emerged in a very strong way the fundamental values of solidarity, of friendship, of sacrifice, and of the family. Here was born and returned to be reborn everyday Padre Pio; here he returned to be young, to be adolescent with the footprints of his passes, that never disappear, because the footprints of Saints are never canceled.
All rights reserved – © padrepiodapietrelcina.com 2020
---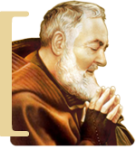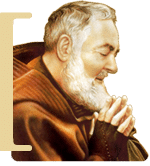 Dear brother, dear sister


if you are reading these pages you have felt the need to meet Padre Pio in your heart.
Every day, with this Blog, we comfort those who are experiencing a
difficult time
or want to strengthen their faith.
Unfortunately, management costs and expenses are high
. Our commitment alone is not enough.
Help us with your support
.
We need double
Help to be able to continue
being online,
we can't do it alone
. If you want our "
mission
" to continue, send your contribution, even symbolic. We do not insert annoying advertisements in our blog,
we do not ask for a subscription fee
, we rely only on your generosity.
If you believe in what we do and if you approve what we publish
send your contribution
, whatever you can/want. Support:
Padrepiodapietrelcina.com Devotional Blog dedicated to Padre Pio
.

Your little support is very valuable for everyone. Thank you
Padrepiodapietrelcina.Com | Spiritual and Devotional Blog dedicated to St Padre Pio of Pietrelcina
.