Padre Pio of Pietrelcina: The house on Santa Maria degli Angeli Street – While Padre Pio was compelled to live in confinement due to illness, he also lived in the home of his brother, Michael, which is located at 44 Via Santa Maria degli Angeli in Pietrelcina, Italy.
While already physically weak, Padre Pio faced great struggles with the Adversary in this house. He endured spiritual struggles, as well as physical battles during which the friar suffered tangible blows. He also had to undergo temptations and suffering. In a letter addressed to Father Agostino, his spiritual director, Padre Pio confided: "Those fiends never stop hitting me, sometimes even throwing me out of bed; they even pull off my shirt and strike me in these conditions. But, as of now, I'm not afraid of them anymore. Jesus is always very loving with me, sometimes even coming to pick me up off the floor and put me back in bed."
During this period of persecution, Padre Pio received comfort and care from his family. Mama Peppa would go visit her son to bring him clean sheets and straighten up his house. Often she would find him in pain and covered with wounds from his battles with the Adversary. Padre Pio always reassured her: "Don't worry about it, Mom. Don't get worked up on my account. There is always Mary! She's always helped me and she will keep doing so."
Later on, Mary Pyle, benefactor and spiritual child of Padre Pio, lived in the same house during the War, from 1941 to 1943.
All rights reserved – © padrepiodapietrelcina.com 2020
---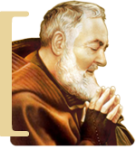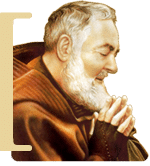 Dear brother, dear sister


if you are reading these pages you have felt the need to meet Padre Pio in your heart.
Every day, with this Blog, we comfort those who are experiencing a
difficult time
or want to strengthen their faith.
Unfortunately, management costs and expenses are high
. Our commitment alone is not enough.
Help us with your support
.
We need double
Help to be able to continue
being online,
we can't do it alone
. If you want our "
mission
" to continue, send your contribution, even symbolic. We do not insert annoying advertisements in our blog,
we do not ask for a subscription fee
, we rely only on your generosity.
If you believe in what we do and if you approve what we publish
send your contribution
, whatever you can/want. Support:
Padrepiodapietrelcina.com Devotional Blog dedicated to Padre Pio
.

Your little support is very valuable for everyone. Thank you
Padrepiodapietrelcina.Com | Spiritual and Devotional Blog dedicated to St Padre Pio of Pietrelcina
.