Via del Rosario in Pietrelcina is a small road that starts in the Castello neighborhood, near the "Portal of the little Madonna" (la Porta Madonnella) – It only takes a few minutes to cross the fields and reach Piana Romana
---
Via del Rosario: The way of the Rosary in Pietrelcina
Via del Rosario (the way of the Rosary)  is a small country road that Padre Pio would take. It started in the Castello neighborhood in Pietrelcina, near the the "Portal of the little Madonna" (la Porta Madonnella). It takes only a few minutes to cross the fields and reach the farm in Piana Romana.
Along the way, there are wells with fresh water where Padre Pio would stop for a drink and chat with the farmers.
Via del Rosario crosses a river, and it was on that bridge that the young Padre Pio would often encounter evil and cruel spirits that would mock and ridicule him, crying: "Here comes the Saint! Here comes the Saint!" Padre Pio would defend himself from the evil spirits by reciting the Holy Rosary.
All rights reserved – © padrepiodapietrelcina.com 2020
---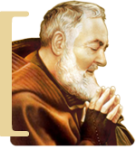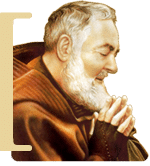 Dear brother, dear sister


if you are reading these pages you have felt the need to meet Padre Pio in your heart.
Every day, with this Blog, we comfort those who are experiencing a
difficult time
or want to strengthen their faith.
Unfortunately, management costs and expenses are high
. Our commitment alone is not enough.
Help us with your support
.
We need double
Help to be able to continue
being online,
we can't do it alone
. If you want our "
mission
" to continue, send your contribution, even symbolic. We do not insert annoying advertisements in our blog,
we do not ask for a subscription fee
, we rely only on your generosity.
If you believe in what we do and if you approve what we publish
send your contribution
, whatever you can/want. Support:
Padrepiodapietrelcina.com Devotional Blog dedicated to Padre Pio
.

Your little support is very valuable for everyone. Thank you
Padrepiodapietrelcina.Com | Spiritual and Devotional Blog dedicated to St Padre Pio of Pietrelcina
.