O Padre Pio, listen to my prayer against the coronavirus.
Prayer against Coronavirus: Padre Pio, there are so many people in the world who suffer from coronavirus, we humbly seek thine aid, that our bodies may be protected from coronavirus and all ills.
Prayer for protection and healing against Coronavirus to Padre Pio
Padre Pio, I come before you today in the time of need to ask you, to Padre Pio come to our rescue, deliver us from coronavirus
Padre Pio, through the intercession of God, you received the gift of healing the sick. Deign to heal those who are already suffering from coronavirus and give them the strength to fight this virus and the tenacity to overcome convalescence.
O God that you have honored Padre Pio by giving him the grace to perform miracles, have mercy on me and grant me for his intercession what I pray for.
Padre Pio gives strength to doctors who work in hospitals to treat coronavirus patients, make their hearts compassionate gives them wisdom makes them recognize Jesus in every patient.
Padre Pio illuminates the minds of researchers and scientists, guides their hands so that they can find an effective coronavirus prevention vaccine, extend your blessing on them.
Padre Pio, protect and heal us from coronavirus and let those who have already fallen ill all over the world and who regain their health grow in faith and hope for recovery.
Padre Pio, I thank you for those who, with your great compassion and mercy, are visiting and give heavenly comfort to those who have been called to the house by the Father.
Padre Pio come to my rescue, protect us from the coronavirus (covid-19).
I desire to get my life running as usual again. Amen
---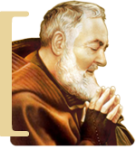 Dear brother,
Dear sister
if you are reading these pages you have felt the need to meet Padre Pio.
Every day we strive to be present online with this blog comforting and encouraging those who are in difficult moment in their life. This blog, unfortunately, involves high management costs and expenses. Help us with your support, our commitment alone is not enough.

We need double Help to be able to continue being online, we can't do it alone. If you want our "mission" to continue, send your contribution, even symbolic. We do not insert annoying advertisements in our blog, we do not ask for a subscription fee, we rely only on your generosity.
If you believe in what we do and publish send your contribution, whatever you can/want. Support: Padrepiodapietrelcina.com Devotional Blog dedicated to Padre Pio.
Your little support is of great value for everyone. Thank you
Padrepiodapietrelcina.Com | Spiritual and Devotional Blog dedicated to St Padre Pio of Pietrelcina
.