Prayer against COVID Coronavirus to Padre Pio – How do you ask for protection and healing from the Covid (coronavirus) – Recite this prayer to Padre Pio against the Coronavirus (COVID-19).
---
Prayer to ask for protection and healing from COVID (coronavirus)
Padre Pio, I come before you in prayer, in this period of overwhelming emotion for all of humanity. I implore you to come to our aid and protect us from COVID (coronavirus). Padre Pio, humble and devoted servant of our omnipotent God, the Church honors you as a generous supplier of divine mercy. You've always shown mercy and compassion for those who are sick, and the Lord, through you, has performed miracles and works of healing.
Padre Pio, have mercy on the humble sinners that we are, hear our prayers, and free us from the coronavirus (COVID) pandemic. May you heal all those who are affected by COVID (coronavirus). Give them the strength to combat this terrible virus as well as the tenacity to work through their recovery. Renew in them a faith that is able to believe that anything is possible if it is God's will.
Padre Pio, grant faith and courage to the doctors, nurses, and all the healthcare workers, that the hospitals may perform healing wonders upon those who suffer from COVID. May their hearts feel compassion, and may they see Jesus in every patient. In this time of darkness regarding the pandemic, various lights of hope appear, such as the discovery of vaccines against Covid.
Padre Pio, please help make the vaccine be available to anyone, especially for the most vulnerable and indigent ones all over the world.
Padre Pio, teach us to love our brothers and sisters who are suffering around the world, and to not only pray for those who are dear to us. Give me a charitable heart, teach me selflessness, and help me to do good works with no thought for earthly compensation. Padre Pio, in this time of the COVID (coronavirus) pandemic, let my prayer be worthy to be heard in heaven. Amen
All rights reserved – © Padrepiodapietrelcina.com 2020
---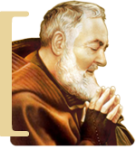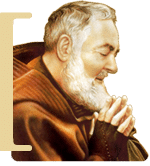 Dear brother,
Dear sister
if you are reading these pages you have felt the need to meet Padre Pio.
Every day we strive to be present online with this blog comforting and encouraging those who are in
difficult moment in their life
. This blog, unfortunately, involves high management costs and expenses.
Help us with your support
, our commitment alone is not enough.
We need double
Help to be able to continue
being online,
we can't do it alone
. If you want our "
mission
" to continue, send your contribution, even symbolic. We do not insert annoying advertisements in our blog,
we do not ask for a subscription fee
, we rely only on your generosity.
If you believe in what we do and publish
send your contribution
, whatever you can/want. Support:
Padrepiodapietrelcina.com Devotional Blog dedicated to Padre Pio
.

Your little support is of great value for everyone.
Thank you
Padrepiodapietrelcina.Com | Spiritual and Devotional Blog dedicated to St Padre Pio of Pietrelcina
.