Prayer to Padre Pio in suffrage for the deceased loved ones – Padre Pio always remembered the soul of all the faithful departed in his prayers – especially during Mass.
For Padre Pio, the life of our dearly departed was an indispensable lesson for the life of those still living. He said: "There are more souls in purgatory who climb this hill (in San Giovanni Rotondo) than there are souls of living men and women who attend my Masses and seek after my prayers."
---
Prayer in favor of the souls of the faithful departed
Sweetest Padre Pio, with your angelic charity, succor the souls of our dearly departed. Be their comforter and intercede for them so they may enter heaven as soon as possible to praise the Lord forever.
Padre Pio, we appeal to the great goodness you've shown to us poor sinners, and we implore you to free the souls of our deceased loved ones who are groaning in Purgatory. We turn to you on behalf of all our brothers and sisters who live in faith and who have since passed on, those who now sleep an eternal sleep.
Padre Pio, our invaluable protector, we come to you in prayer. We plead with you to grant us grace so that the doors of the Holy City, that Heavenly Jerusalem, may be opened to the souls of our dearly departed.
May they be able to praise, together with you, the angels, all the saints, and the Father, Son, and the Holy Spirit. Padre Pio, let them rest in peace. Amen
All rights reserved – © padrepiodapietrelcina.com 2020
---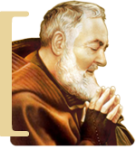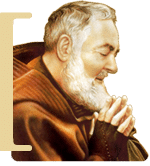 Dear brother, dear sister


if you are reading these pages you have felt the need to meet Padre Pio in your heart.
Every day, with this Blog, we comfort those who are experiencing a
difficult time
or want to strengthen their faith.
Unfortunately, management costs and expenses are high
. Our commitment alone is not enough.
Help us with your support
.
We need double
Help to be able to continue
being online,
we can't do it alone
. If you want our "
mission
" to continue, send your contribution, even symbolic. We do not insert annoying advertisements in our blog,
we do not ask for a subscription fee
, we rely only on your generosity.
If you believe in what we do and if you approve what we publish
send your contribution
, whatever you can/want. Support:
Padrepiodapietrelcina.com Devotional Blog dedicated to Padre Pio
.

Your little support is very valuable for everyone. Thank you
Padrepiodapietrelcina.Com | Spiritual and Devotional Blog dedicated to St Padre Pio of Pietrelcina
.