Powerful Prayer for Financial Help to St. Padre Pio – I pray for strength in my trials, immediate financial breakthrough
---
Powerful Prayer for Financial Help
Dearest St. Padre Pio, I pray for strength in my trials, immediate financial breakthrough, grace and direction with the purpose our dear Lord has called me for.
Padre Pio, I have many insecurities that make me doubt my ability to provide for my family. Dear Padre Pio, I pray for your assurance that I will be able to give financial stability to my family so I can provide for their needs.
Help me Padre Pio, to get my financial worries in the right perspective and to fix my eyes upon Jesus, knowing that You know everything we need before we even ask You.
St. Padre Pio, I ask that you remove my worries, anxieties, and fears about money, and replace them with faith.
Please calm my heart and mind. Help me confidently believe that you will help me find a way. Help me show my family love even when I am stressed.
I know and trust that my debts will be paid and money will flow into my life.
Forgive me Lord, for I think that I have spent too much time worrying about my finances.
May I be assisted in all my needs, and may God be pleased with me and use me in building his kingdom, and being a blessing to others in return for his divine grace and urgent help.
Oh good God that you have honored St. Padre Pio by giving him the grace to perform miracles, have mercy on me and grant me for his intercession what I pray for. Keep my family healthy, safe, and united in your love. Amen.
All rights reserved – © Padrepiodapietrelcina.com 2020
---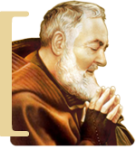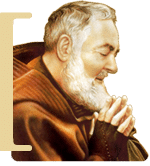 Dear brother,
Dear sister
if you are reading these pages you have felt the need to meet Padre Pio.
Every day we strive to be present online with this blog comforting and encouraging those who are in
difficult moment in their life
. This blog, unfortunately, involves high management costs and expenses.
Help us with your support
, our commitment alone is not enough.
We need double
Help to be able to continue
being online,
we can't do it alone
. If you want our "
mission
" to continue, send your contribution, even symbolic. We do not insert annoying advertisements in our blog,
we do not ask for a subscription fee
, we rely only on your generosity.
If you believe in what we do and publish
send your contribution
, whatever you can/want. Support:
Padrepiodapietrelcina.com Devotional Blog dedicated to Padre Pio
.

Your little support is of great value for everyone.
Thank you
Padrepiodapietrelcina.Com | Spiritual and Devotional Blog dedicated to St Padre Pio of Pietrelcina
.