Padre Pio da Pietrelcina: Seven years ok sickness.
The year 1909 would be a particular and difficult year for the monk, who was assigned to different convents in hopes that the change of climate would better his health. Seeing that there was no improvement, at the beginning of May, Father Agostino of San Marco in Lamis accompanied him to Pietrelcina, to cure the sickness that was becoming more alarming.
This stay, which was to be a short one, instead became, with some short interruptions, a period of almost seven years of continuous sickness and lasted till the end of February 1916.
At Pietrelcina, through the sufferings of those years, Padre Pio learned to climb the "hill of Calvary", having as his teacher the Good Teacher, Jesus. The Good Teacher didn't permit others to do His work.
The 2nd of January 1910 the provincial father wrote to Padre Pio saying: "even ignoring these, which are the divine signs, in wanting you in the family, I almost hope that the crisis will be resolved; and praying that the Good Lord will at least make you fit to study a little and to do the necessary work for the promotion to the priesthood".
In 1911 Brother Benedetto, on trying to reinstate him into the monastic life, ordered him to go the convent of Venafro. But the Father Guardian, Brother Evangelista, sent bad news to him. He wrote to the Superior General of the Order of the Capuchins, to communicate his great apprehension in seeing that Padre Pio had been fasting for forty days, only to be nourished with the Holy Eucharist.
All rights reserved – © padrepiodapietrelcina.com 2020
---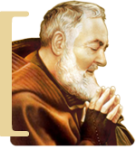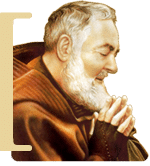 Dear brother, dear sister


if you are reading these pages you have felt the need to meet Padre Pio in your heart.
Every day, with this Blog, we comfort those who are experiencing a
difficult time
or want to strengthen their faith.
Unfortunately, management costs and expenses are high
. Our commitment alone is not enough.
Help us with your support
.
We need double
Help to be able to continue
being online,
we can't do it alone
. If you want our "
mission
" to continue, send your contribution, even symbolic. We do not insert annoying advertisements in our blog,
we do not ask for a subscription fee
, we rely only on your generosity.
If you believe in what we do and if you approve what we publish
send your contribution
, whatever you can/want. Support:
Padrepiodapietrelcina.com Devotional Blog dedicated to Padre Pio
.

Your little support is very valuable for everyone. Thank you
Padrepiodapietrelcina.Com | Spiritual and Devotional Blog dedicated to St Padre Pio of Pietrelcina
.