Padre Pio a perfect Capuchin
Padre Pio was the "saint" of obedience. Capuchin spirituality is based on the Passion of Christ. Their crosses do not bear a corpus, because it is the friar who is to take Christ's place.
The Regola Bollata of St Francis (that of 1223) begins with the following words, "The rule and life of the friars minor is this, to follow the holy Gospel of Our Lord Jesus Christ, living in obedience, with no possessions of t heir own and in chastity." Padre Pio lived continuously and heroically all these things, from the morning of his profession (22 January 1904) to the night of his death (23 September 1968).
Padre Pio followed the holy Gospel, in the footsteps of our Lady.
The Gospel identifies with the Cross. No one practiced it like Mary, who as Our Lady of Sorrows stood at the foot of the cross. No one practiced it like St Francis, who for two years bore the stigmata of Jesus. No one practiced it like Padre Pio who for 50 years was pierced with the wounds of the Cross.
Padre Pio lived in obedience. I would like to synthesize this point in the following affirmations. Padre Pio, like Jesus, was obedient unto death. St Francis was the saint of poverty; Padre Pio was the "saint" of obedience. The documents of his life are there to bear witness.
All rights reserved – © Padrepiodapietrelcina.com 2020
---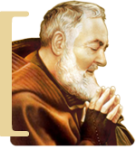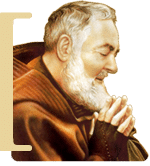 Dear brother,
Dear sister
if you are reading these pages you have felt the need to meet Padre Pio.
Every day we strive to be present online with this blog comforting and encouraging those who are in
difficult moment in their life
. This blog, unfortunately, involves high management costs and expenses.
Help us with your support
, our commitment alone is not enough.
We need double
Help to be able to continue
being online,
we can't do it alone
. If you want our "
mission
" to continue, send your contribution, even symbolic. We do not insert annoying advertisements in our blog,
we do not ask for a subscription fee
, we rely only on your generosity.
If you believe in what we do and publish
send your contribution
, whatever you can/want. Support:
Padrepiodapietrelcina.com Devotional Blog dedicated to Padre Pio
.

Your little support is of great value for everyone.
Thank you
Padrepiodapietrelcina.Com | Spiritual and Devotional Blog dedicated to St Padre Pio of Pietrelcina
.