Padre Pio composed a powerful, beautiful, and still-timely prayer for the Church as part of a letter he wrote just over 100 years ago. Addressing our Heavenly Father, he wrote:
"May the apostasy of many souls belonging to the sheepfold of Jesus Christ come to an end once and for all. May God's reign come soon; may this most holy Father sanctify His Church; may He abundantly shower His mercy on those souls who have not known Him up to now. May He destroy the reign of Satan and reveal, to the confusion of this infernal beast, all his evil snares; may He reveal to all slaves of this awful wretch what a liar he is.
"May the most tender Father enlighten the intelligence and touch the hearts of all men, so that the fervent may not become cooler or slow down in the ways of salvation, that the lukewarm may become more fervent, and those who have moved far from Him may return. May He also dissipate and confuse all the wise of this world so that they do not wage war and inhibit the propagation of His reign.
"Finally, may this most holy Father banish from His Church all the dissension that exists, and impede the birth of more, so that there will be only one sheepfold and only one Shepherd. May He multiply a hundredfold the number of chosen souls, send us many saints and learned ministers and sanctify those we already possess. May He, through them, make fervor return to all Christian souls.
"May the number of Catholic missionaries increase, as we once again have reason to complain to the divine Master: "The harvest is plentiful, but the laborers are few."
"Let our entire lives, our every action and all our aspirations be completely directed towards making reparation for the offenses which our ungrateful brothers continually do to Him.
"But our thoughts must be raised higher still. There is a Father up there who alone can and must give everything to glorify this most holy Son of His. We must knock at this divine Father's heart, with holy and filial confidence, and pray that He Himself will take on the defense of Jesus in the Sacrament, either by bringing about an end to the world or to stop so much iniquity."
All rights reserved – © padrepiodapietrelcina.com 2020
---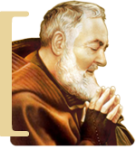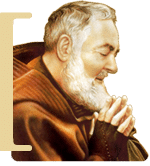 Dear brother, dear sister


if you are reading these pages you have felt the need to meet Padre Pio in your heart.
Every day, with this Blog, we comfort those who are experiencing a
difficult time
or want to strengthen their faith.
Unfortunately, management costs and expenses are high
. Our commitment alone is not enough.
Help us with your support
.
We need double
Help to be able to continue
being online,
we can't do it alone
. If you want our "
mission
" to continue, send your contribution, even symbolic. We do not insert annoying advertisements in our blog,
we do not ask for a subscription fee
, we rely only on your generosity.
If you believe in what we do and if you approve what we publish
send your contribution
, whatever you can/want. Support:
Padrepiodapietrelcina.com Devotional Blog dedicated to Padre Pio
.

Your little support is very valuable for everyone. Thank you
Padrepiodapietrelcina.Com | Spiritual and Devotional Blog dedicated to St Padre Pio of Pietrelcina
.