Padre Pio speaks to us and answers our questions, always giving the best advice, but we have to know how to listen – Padre Pio is an intermediary of Divine Mercy – through the blessing of his advice, of God Himself, and with His Spirit, our hearts can be enlightened so we may know which road to take.
---
Padre Pio talk to me, say something, let me feel your presence
Padre Pio teaches us that when we let God into our hearts and make a place for Him, the Holy Spirit immediately lets us hear His voice and also directs our thoughts, our feelings, and our intentions according to God's will.
Padre Pio, I feel like I'm worthless – We often expect too much from ourselves. We're not happy being able to do something well, and we want to excel at it instead. And when the outcome of our actions doesn't match with our expectations, we sink into depression. At the first bump in the road, we deem ourselves incompetent because we equate not excelling with being worthless. Padre Pio says: "I love just as you are, despite your flaws."
Padre Pio, I want to go back to how I was – We often focus our attention on the past rather than the present. We see the past as a time of happiness and satisfaction. The fundamental rule in improving one's situation is to take small steps. That is, improve one's life one day at a time, without expecting everything right away. Padre Pio says: "You want to go back to how you were. What is the first step you can take today? If you'll tell me, I'll help you."
Padre Pio, I've lost hope – We often look at all of our separate problems and see an enormous single problem that seems impossible to resolve. We always have regrets. We worry about missed opportunities, goals we didn't meet, failures, and we believe that if we try again, we'll fail again. Padre Pio says: "Pray, hope and don't worry; worrying is pointless. God is merciful and He will hear your prayer."
All rights reserved – © padrepiodapietrelcina.com 2020
---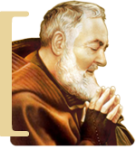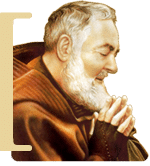 Dear brother, dear sister


if you are reading these pages you have felt the need to meet Padre Pio in your heart.
Every day, with this Blog, we comfort those who are experiencing a
difficult time
or want to strengthen their faith.
Unfortunately, management costs and expenses are high
. Our commitment alone is not enough.
Help us with your support
.
We need double
Help to be able to continue
being online,
we can't do it alone
. If you want our "
mission
" to continue, send your contribution, even symbolic. We do not insert annoying advertisements in our blog,
we do not ask for a subscription fee
, we rely only on your generosity.
If you believe in what we do and if you approve what we publish
send your contribution
, whatever you can/want. Support:
Padrepiodapietrelcina.com Devotional Blog dedicated to Padre Pio
.

Your little support is very valuable for everyone. Thank you
Padrepiodapietrelcina.Com | Spiritual and Devotional Blog dedicated to St Padre Pio of Pietrelcina
.