Powerful prayer in urgent need to St. Padre Pio
Most holy St Padre Pio, faithful servant and friend of Jesus, the Church honors and invokes you universally as the patron of hopeless cases, of things despaired of.
Pray for me, I am so helpless and alone; make use, I implore you, of this particular privilege accorded to you, to bring visible and speedy help, where help is almost despaired of.
St Padre Pio, come to my assistance in this great need, that I may receive the consolations and succor of Heaven in all my necessities, tribulations and sufferings, particularly [ here make your request], so that I may bless God with you and all the elect forever. I need a grace right now in my life. All odds seem to be stuck against me.
I promise you, St. Padre Pio, to be ever mindful of this great favor, and I will never cease to honor you as my special and powerful patron and to do all in my power to encourage devotion to you.
O God, You gave Padre Pio the great privilege of participating in the passion of Your Son, grant me through his intercession the grace [ .. ]
Lord God, I ask you to walk with me every step of my life. Though I will find many dark places and challenges that will make me feel like giving up, with you I will be confident and I will be strong. With you, I will not be afraid to move forward. You are my strength and my rock.
Oh God, You have done great things in my life, and you continue doing things that I never imagined. I honor you highly and exalt your holy name.
Amen.
---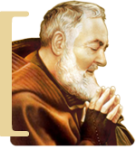 Dear brother,
Dear sister
if you are reading these pages you have felt the need to meet Padre Pio.
Every day we strive to be present online with this blog comforting and encouraging those who are in difficult moment in their life. This blog, unfortunately, involves high management costs and expenses. Help us with your support, our commitment alone is not enough.

We need double Help to be able to continue being online, we can't do it alone. If you want our "mission" to continue, send your contribution, even symbolic. We do not insert annoying advertisements in our blog, we do not ask for a subscription fee, we rely only on your generosity.
If you believe in what we do and publish send your contribution, whatever you can/want. Support: Padrepiodapietrelcina.com Devotional Blog dedicated to Padre Pio.
Your little support is of great value for everyone. Thank you
Padrepiodapietrelcina.Com | Spiritual and Devotional Blog dedicated to St Padre Pio of Pietrelcina
.