Like Padre Pio, let us prepare ourselves during this time of Christmas to welcome the birth of Jesus made man, letting him reign in our lives.
---
Padre Pio, Christmas, and the birth of Jesus
Padre Pio loved Holy Christmas and had a particular devotion to the Christ Child; in fact, he personally made the Nativity scene in his house in Pietrelcina. In a little cave he very attentively placed Our Lady and St. Joseph, the ox and the donkey, the Magi, the shepherds with their sheep, and all the other characters. In the center of the cave he placed the manger, very carefully made, and when midnight struck on Christmas Eve, Padre Pio placed the Child Jesus in it.
Padre Pio's attachment to Christmas and his special devotion to the Christ Child were to remain with him all his life. In a letter written close to Christmas, an inspired Padre Pio described to one of his spiritual daughters the sentiments that welled up in his heart at the thought of Jesus about to be born: «At the beginning of the sacred novena in honor of the Holy Child Jesus, my spirit felt as though it were reborn to new life. My heart now feels it can contain heavenly blessings. My soul completely melts in the presence of this God who became flesh for us. How can anyone help but love him at all times with new zeal?». (Ep. II, p. 272)

The Eucharistic celebration on Christmas Eve was lived by Padre Pio with immense joy. In one testimony, Renzo Allegri recounts the experience he lived with Padre Pio at Christmastime: «We were reciting the rosary while waiting for the Mass. Padre Pio was praying with us. All of a sudden, in an aura of light, I saw the Baby Jesus appear in his arms. Padre Pio was transfigured, his eyes gazing upon the glowing child in his arms, his face transformed by an astonished smile. When the vision disappeared, Padre Pio realized from the way I was looking at him that I had seen everything. But he drew close to me and told me not to mention it to anyone ».
Like Padre Pio, let us also prepare ourselves to welcome the Christ Child into our hearts, letting him reign in our lives, and  «let us draw near to the Christ Child with pure hearts, cleansed of all sin, and we will come to understand how sweet and pleasant it is to love Him ». (Ep. II, p. 272)
Padre Pio, pure in heart, you who lived fully in prayer and in the love of God. We confide in you, o Padre Pio, and are sure that you will intercede for us, obtaining the grace we are in need of. Give us a charitable heart, teach us to be more generous, and help us to do good works with no thought of earthly compensation. Amen.
All rights reserved – © padrepiodapietrelcina.com 2020
---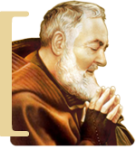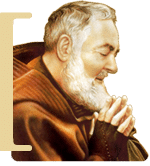 Dear brother, dear sister


if you are reading these pages you have felt the need to meet Padre Pio in your heart.
Every day, with this Blog, we comfort those who are experiencing a
difficult time
or want to strengthen their faith.
Unfortunately, management costs and expenses are high
. Our commitment alone is not enough.
Help us with your support
.
We need double
Help to be able to continue
being online,
we can't do it alone
. If you want our "
mission
" to continue, send your contribution, even symbolic. We do not insert annoying advertisements in our blog,
we do not ask for a subscription fee
, we rely only on your generosity.
If you believe in what we do and if you approve what we publish
send your contribution
, whatever you can/want. Support:
Padrepiodapietrelcina.com Devotional Blog dedicated to Padre Pio
.

Your little support is very valuable for everyone. Thank you
Padrepiodapietrelcina.Com | Spiritual and Devotional Blog dedicated to St Padre Pio of Pietrelcina
.