Through these words and thoughts on Christmas we will discover why Padre Pio especially loved this feast and lived it "caught up in an ecstasy of love". For Padre Pio of Pietrelcina, Christmas was the most beautiful feast of the entire liturgical year, from the Advent novena that set his spirit aflame to the procession with the Christ Child on Christmas night.
---
Words and thoughts about Christmas written by Padre Pio
The tenderness of Christmas
«All of the feasts of the Church are beautiful… but Christmas has a tenderness, a childlike sweetness that captivates my entire heart»
Tears of gratitude
«How Jesus makes me happy! How gentle is his spirit! But I get confused and I cannot do nothing else than cry and repeat: "Jesus my bread" »
The birthcries of Jesus
«There is nothing to be heard but the birthcries and weeping of the God baby and with these birthcries and with these tears He offers to divine justice the first ransom for our reconciliation… »
The least among us
«May the Child Jesus fill you with His divine charisms, make you experience the joys of the shepherds and the angels and fully bestow on you all the fire of that love for which He made Himself the least among us, and make you become a small child full of amiability, simplicity, love»
Sweetest Jesus
«May the Sweetest Child Jesus bring you all the graces, all the blessings, all the smiles that appeal to His infinite goodness… »
I raise my prayer to you Saint Padre Pio of Pietrelcina: strengthen our hearts in times of trial – If we become unworthy and yield to temptation, secure for us healing for our sins. Renew my heart; make it loving and full of goodness. Inspire me to follow you in love, to be more generous, and to do good works. Amen
All rights reserved – © padrepiodapietrelcina.com 2020
---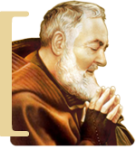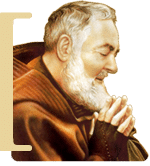 Dear brother, dear sister


if you are reading these pages you have felt the need to meet Padre Pio in your heart.
Every day, with this Blog, we comfort those who are experiencing a
difficult time
or want to strengthen their faith.
Unfortunately, management costs and expenses are high
. Our commitment alone is not enough.
Help us with your support
.
We need double
Help to be able to continue
being online,
we can't do it alone
. If you want our "
mission
" to continue, send your contribution, even symbolic. We do not insert annoying advertisements in our blog,
we do not ask for a subscription fee
, we rely only on your generosity.
If you believe in what we do and if you approve what we publish
send your contribution
, whatever you can/want. Support:
Padrepiodapietrelcina.com Devotional Blog dedicated to Padre Pio
.

Your little support is very valuable for everyone. Thank you
Padrepiodapietrelcina.Com | Spiritual and Devotional Blog dedicated to St Padre Pio of Pietrelcina
.