September 20, 1968 was the 50th anniversary of Padre Pio's stigmata.
The Mass on September 20th was at the usual early morning hour of 5:00 a.m. and the church was filled to capacity. For Padre Pio, it would be a day like any other day, a day devoted to Mass, prayer, and service to the Lord. But it was not a day like any other day for his spiritual children from around the world. Many had come great distances to be present for his anniversary.
Many people had to stand outside during the Mass. In keeping with Padre Pio's wishes, there were no speeches, no festivities, no celebration. There was only one exception to the rule and that was the hundreds of deep red roses that decorated the sanctuary of the church. The crucifix in the choir loft before which Padre Pio received the stigmata on September 20, 1918, was also adorned with beautiful red roses.
Father Armand Dasseville, OFM Capuchin, was one of the many pilgrims that day who attended the Mass that commemorated the 50th anniversary of Padre Pio's stigmata. An active promoter of Padre Pio prayer groups in the United States, Father Dasseville had traveled from New York City to attend the Mass. Father Dasseville said:
"It is hard to put my impressions of Padre Pio's Mass into words. All I had heard and read about his masses were true. I was touched by the humility, the sincerity, and the great faith of this man of prayer. He seemed oblivious to the noises and exclamations, the pushing and shoving that was going on in the church as people edged closer to get a better look at him. He literally lived the Mass. He relived the Passion of Christ. From the expression on his face, he actually suffered with Christ. As far as I could judge, the sufferings of Padre Pio were greatest at the moment of the consecration of the Mass. His eyes sometimes would close, his face would contort in pain, and his lips would tremble".
All rights reserved – © Padrepiodapietrelcina.com 2020
---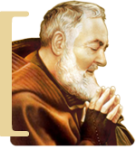 Dear brother,
Dear sister
if you are reading these pages you have felt the need to meet Padre Pio.
Every day we strive to be present online with this blog comforting and encouraging those who are in
difficult moment in their life
. This blog, unfortunately, involves high management costs and expenses.
Help us with your support
, our commitment alone is not enough.
We need double
Help to be able to continue
being online,
we can't do it alone
. If you want our "
mission
" to continue, send your contribution, even symbolic. We do not insert annoying advertisements in our blog,
we do not ask for a subscription fee
, we rely only on your generosity.
If you believe in what we do and publish
send your contribution
, whatever you can/want. Support:
Padrepiodapietrelcina.com Devotional Blog dedicated to Padre Pio
.

Your little support is of great value for everyone.
Thank you
Padrepiodapietrelcina.Com | Spiritual and Devotional Blog dedicated to St Padre Pio of Pietrelcina
.