The Church of Saint Mary of the Angels in Pietrelcina (Santa Maria degli Angeli) is a beautiful religious structure, done in neoclassical style, joined to a bell tower with a clock. There's a statue housed inside from the late 600s that represents Madonna della Libera, the patron saint of Pietrelcina. Padre Pio referred to her affectionately as "our little Madonna" (la Madonnella nostra). In the year 2000, the facade was embellished with a bronze doorway made with eight panels, each of which display scenes from Padre Pio's life.
It was in the church of Saint Mary of the Angels that Padre Pio began his priestly apostleship. On August 14th, 1910, four days after being ordained as a priest, Padre Pio said his first Mass.
In this church, Padre Pio had endless moments of prayer and intimacy with God, and spiritual rapture before the altar, as well as the spiritual phenomenon of the fusion of hearts. In Padre Pio's own words: "Jesus' heart is my heart; there were no longer two hearts beating, only one. My heart had disappeared, just as a drop of water becomes lost in the sea".
.
All rights reserved – © padrepiodapietrelcina.com 2020
---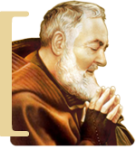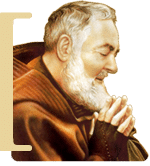 Dear brother, dear sister


if you are reading these pages you have felt the need to meet Padre Pio in your heart.
Every day, with this Blog, we comfort those who are experiencing a
difficult time
or want to strengthen their faith.
Unfortunately, management costs and expenses are high
. Our commitment alone is not enough.
Help us with your support
.
We need double
Help to be able to continue
being online,
we can't do it alone
. If you want our "
mission
" to continue, send your contribution, even symbolic. We do not insert annoying advertisements in our blog,
we do not ask for a subscription fee
, we rely only on your generosity.
If you believe in what we do and if you approve what we publish
send your contribution
, whatever you can/want. Support:
Padrepiodapietrelcina.com Devotional Blog dedicated to Padre Pio
.

Your little support is very valuable for everyone. Thank you
Padrepiodapietrelcina.Com | Spiritual and Devotional Blog dedicated to St Padre Pio of Pietrelcina
.