Prayer for the Intercession of St. Pio of Pietrelcina
Pope John Paul II recited this prayer on the occasion of the canonization of Padre Pio, June 16, 2002
Teach us, we pray, humility of heart, so that we may be counted among the little ones of the Gospel to whom the Father promised to reveal the mysteries of His Kingdom.
Help us to pray without ceasing, certain that God knows what we need even before we ask Him.
Obtain for us the eyes of faith that will help us recognize in the poor and suffering, the very face of Jesus.
Sustain us in the hour of trouble and trial and, if we fall, let us experience the joy of the sacrament of forgiveness.
Grant us your tender devotion to Mary, mother of Jesus and our Mother.
Accompany us on our earthly pilgrimage toward the blessed Homeland, where we too, hope to arrive to contemplate forever the Glory of the Father, the Son, and the Holy Spirit. Amen
Prayer for the Intercession of St. Pio of Pietrelcina
Dear God, You generously blessed Your servant,
St. Pio of Pietrelcina,
with the gifts of the Spirit.
You marked his body with the five wounds
of Christ Crucified, as a powerful witness
to the saving Passion and Death of Your Son.
Endowed with the gift of discernment,
St. Pio labored endlessly in the confessional
for the salvation of souls.
With reverence and intense devotion
in the celebration of Mass,
he invited countless men and women
to a greater union with Jesus Christ
in the Sacrament of the Holy Eucharist.
Through the intercession of St. Pio of Pietrelcina,
I confidently beseech You to grant me
the grace of (here state your petition).
Glory be to the Father… (three times). Amen.
All rights reserved – © padrepiodapietrelcina.com 2020
---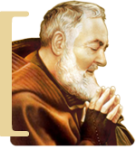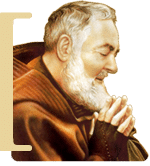 Dear brother, dear sister


if you are reading these pages you have felt the need to meet Padre Pio in your heart.
Every day, with this Blog, we comfort those who are experiencing a
difficult time
or want to strengthen their faith.
Unfortunately, management costs and expenses are high
. Our commitment alone is not enough.
Help us with your support
.
We need double
Help to be able to continue
being online,
we can't do it alone
. If you want our "
mission
" to continue, send your contribution, even symbolic. We do not insert annoying advertisements in our blog,
we do not ask for a subscription fee
, we rely only on your generosity.
If you believe in what we do and if you approve what we publish
send your contribution
, whatever you can/want. Support:
Padrepiodapietrelcina.com Devotional Blog dedicated to Padre Pio
.

Your little support is very valuable for everyone. Thank you
Padrepiodapietrelcina.Com | Spiritual and Devotional Blog dedicated to St Padre Pio of Pietrelcina
.