Prayer to Carlo Acutis – Prayer to ask for and experience a miracle, through Blessed Carlo Acutis's intercession – Beautiful Quotes from Carlo Acutis
---
Prayer to Blessed Carlo Acutis
O God, our Father, Thank you for giving us Carlo, model of life for young people, and a message of love for all.
You made him fall in love with your Son, Jesus, making of the Eucharist his "highway to Heaven".
You gave him Mary, as beloved Mother, and with the Rosary you made him sing the praises of her tenderness.
Accept his prayer for us. Attend especially to the poor, whom he loved and helped.
Through his intercession, may I receive the grace I need (explane) and fulfil our joy, by placing Carlo among the blessed of your Holy Church, that his smile may shine again for us for the glory of your name.
Amen. (mons. Domenico Sorrentino)
Inspiring Quotes by Carlo Acutis
The more Eucharist we receive, the more we will become like Jesus, so that on earth we will have a foretaste of heaven.
All people are born as originals but many live as photocopies
Continuously ask your guardian angel for help. Your guardian angel has to become your best friend.
Do not be afraid because with the Incarnation of Jesus, death becomes life, and there's no need to escape: in eternal life, something extraordinary awaits us.
Sadness is looking at ourselves, happiness is looking towards God.
The more Eucharist we receive, the more we will become like Jesus, so that on this earth we will have a foretaste of heaven.
Our goal must be infinite, not the finite. The infinite is our homeland. Heaven has been waiting for us forever.
The Eucharist is the highway to Heaven.
What does it matter if you can win a thousand battles if you cannot win against your own corrupt passions? It doesn't matter. The real battle is with ourselves.
All rights reserved – © Padrepiodapietrelcina.com 2020
---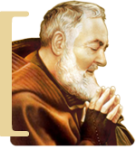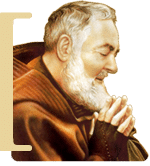 Dear brother,
Dear sister
if you are reading these pages you have felt the need to meet Padre Pio.
Every day we strive to be present online with this blog comforting and encouraging those who are in
difficult moment in their life
. This blog, unfortunately, involves high management costs and expenses.
Help us with your support
, our commitment alone is not enough.
We need double
Help to be able to continue
being online,
we can't do it alone
. If you want our "
mission
" to continue, send your contribution, even symbolic. We do not insert annoying advertisements in our blog,
we do not ask for a subscription fee
, we rely only on your generosity.
If you believe in what we do and publish
send your contribution
, whatever you can/want. Support:
Padrepiodapietrelcina.com Devotional Blog dedicated to Padre Pio
.

Your little support is of great value for everyone.
Thank you
Padrepiodapietrelcina.Com | Spiritual and Devotional Blog dedicated to St Padre Pio of Pietrelcina
.