At the peak of the ruins of an ancient baronial castle, one finds the small "Tower Room of Padre Pio" (la Torretta) – It's a little room that's built upon rock, and the only way to get to it is by way of a steep climb. This tiny space is where Padre Pio spent time, during the difficult years between 1909 and 1912, when his illness kept him away from the convent.
According to the rules of the Order of the Capuchin Friars, if a friar had to live outside of the convent for a long period of time, they were not allowed – for any reason – to stay with their family. This is why Padre Pio's parents rented this small space in the tower.
During this time period, Padre Pio began to write many letters to his spiritual directors, Padre Benedetto Nardella and Padre Agostino Daniele. By reading his letters, one finds that in that place, far from friends and family, Padre Pio was consoled by the presence of Mary, Jesus, his Guardian Angel, and Saint Francis
All rights reserved – © padrepiodapietrelcina.com 2020
---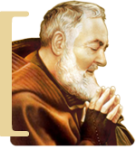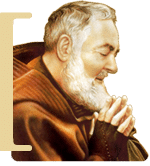 Dear brother, dear sister


if you are reading these pages you have felt the need to meet Padre Pio in your heart.
Every day, with this Blog, we comfort those who are experiencing a
difficult time
or want to strengthen their faith.
Unfortunately, management costs and expenses are high
. Our commitment alone is not enough.
Help us with your support
.
We need double
Help to be able to continue
being online,
we can't do it alone
. If you want our "
mission
" to continue, send your contribution, even symbolic. We do not insert annoying advertisements in our blog,
we do not ask for a subscription fee
, we rely only on your generosity.
If you believe in what we do and if you approve what we publish
send your contribution
, whatever you can/want. Support:
Padrepiodapietrelcina.com Devotional Blog dedicated to Padre Pio
.

Your little support is very valuable for everyone. Thank you
Padrepiodapietrelcina.Com | Spiritual and Devotional Blog dedicated to St Padre Pio of Pietrelcina
.