The Chapel of Saint Francis in Pietrelcina houses the trunk of the elm tree of the first stigmata – Padre Pio would often sit in the shade of this majestic elm tree while studying and praying.
On September 7th, 1910, about a month after his ordination to the priesthood, Padre Pio was enjoying a moment of prayer at the base of this elm tree when he received the stigmata, the first signs of the passion of Jesus.
Padre Pio described the event in his own words in a letter to his spiritual director: "Yesterday evening something happened to me that I can't explain nor understand. A spot of red appeared right in the middle of the palm of my hands, about the size of a coin, and with it there was also a strong and sharp pain right in the middle of the red. This pain was stronger in my left hand, so much so that it still hurts. I also felt pain in the soles of my feet. This phenomenon has repeated itself off and on for almost a year . . . ."
In 1958, Mercurio Scocca, a friend from Padre Pio's childhood, began construction on a small church dedicated to Saint Francis. Today, an ever-growing number of pilgrims enjoys the shade of pine trees along the street that leads to this place that Padre Pio held so dear.
All rights reserved – © padrepiodapietrelcina.com 2020
---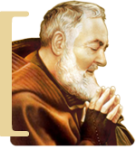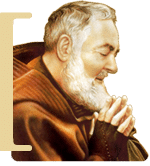 Dear brother, dear sister


if you are reading these pages you have felt the need to meet Padre Pio in your heart.
Every day, with this Blog, we comfort those who are experiencing a
difficult time
or want to strengthen their faith.
Unfortunately, management costs and expenses are high
. Our commitment alone is not enough.
Help us with your support
.
We need double
Help to be able to continue
being online,
we can't do it alone
. If you want our "
mission
" to continue, send your contribution, even symbolic. We do not insert annoying advertisements in our blog,
we do not ask for a subscription fee
, we rely only on your generosity.
If you believe in what we do and if you approve what we publish
send your contribution
, whatever you can/want. Support:
Padrepiodapietrelcina.com Devotional Blog dedicated to Padre Pio
.

Your little support is very valuable for everyone. Thank you
Padrepiodapietrelcina.Com | Spiritual and Devotional Blog dedicated to St Padre Pio of Pietrelcina
.