Padre Pio's tomb, where his body is buried, is located in San Giovanni Rotondo (region of Apulia, in southern Italy) . This is where one can find the relics and the mortal remains of Saint Padre Pio.
Padre Pio's Tomb – Where Padre Pio's body can be found
Where can Padre Pio be found? Today, Padre Pio's body can be found in San Giovanni Rotondo (Italy) in the crypt of the new sanctuary. It lies in a transparent casket, where the public can view it and honor Saint Pio's relics. Until April of 2008, the remains of the "friar of the stigmata" were kept for 42 years in the crypt of the Church of Santa Maria delle Grazie in San Giovanni Rotondo (Italy).
They were laid in the earth beneath a solid block of green marble in the shape of a sarcophagus, that weighed almost 3.5 tons. Padre Pio's body was entombed underground, as per his request.
Where is Padre Pio's body laid to rest today?  The tomb with Padre Pio's body is inside the new sanctuary in San Giovanni Rotondo (Italy). Upon entering this space, which measures over twenty-one thousand square feet, one is struck by the warmth, the light, and the sacred art. It is a space that is dedicated to the light of Christ and is designed to remind people of paradise.
On the walls there are two series of mosaics:
the first is a sequence that invites believers to feel a renewed sense of their baptism, inviting them to be led by Christ, through the examples of Padre Pio and Saint Francis of Assisi.
the second is dedicated to the story of humanity and of the creation. The biblical events which were chosen are those whose spiritual content inspired both Saint Francis and Padre Pio.
On the large central pillar that supports the entire sanctuary, there is a representation of Jesus Christ in His glory and an angel of light. Inside an open book is written: "I am the Life."
All rights reserved – © padrepiodapietrelcina.com 2020
---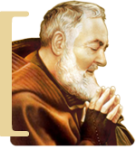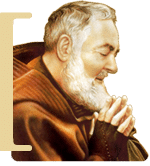 Dear brother, dear sister


if you are reading these pages you have felt the need to meet Padre Pio in your heart.
Every day, with this Blog, we comfort those who are experiencing a
difficult time
or want to strengthen their faith.
Unfortunately, management costs and expenses are high
. Our commitment alone is not enough.
Help us with your support
.
We need double
Help to be able to continue
being online,
we can't do it alone
. If you want our "
mission
" to continue, send your contribution, even symbolic. We do not insert annoying advertisements in our blog,
we do not ask for a subscription fee
, we rely only on your generosity.
If you believe in what we do and if you approve what we publish
send your contribution
, whatever you can/want. Support:
Padrepiodapietrelcina.com Devotional Blog dedicated to Padre Pio
.

Your little support is very valuable for everyone. Thank you
Padrepiodapietrelcina.Com | Spiritual and Devotional Blog dedicated to St Padre Pio of Pietrelcina
.