Padre Pio, please help me through this hard time.
Prayer for protection and healing from Coronavirus (Covid-19) to Padre Pio.
Prayer is the best weapon we possess. It is the key that opens the heart of God
You must always humble yourself lovingly before God and before men, because God speaks only to those who are truly humble and He enriches them with His gifts. Jesus will assist you and give you the grace to live a heavenly life and nothing whatever will be able to separate you from His love.
Hold on tightly to the Rosary. Be very grateful to the Madonna because it was she who gave us Jesus.
Love our Lady and make her loved; always recite the Rosary and recite it as often as possible. Love Jesus, love Him very much, but to do this, be ready to love sacrifice more.
Don't allow any sadness to dwell in your soul, for sadness prevents the Holy Spirit from acting freely.
May Jesus be always with you and may He be pleased to make all redeemed souls worthy to be received one day into the kingdom of glory. May He include us in the great number of those who have known how to make continual progress at the school of His love. He knows who we are and He will hold out His paternal hand to us during difficulties, so that nothing prevents us from running to Him swiftly. But to enjoy this grace we must have complete trust in Him.
The more you are afflicted, the more you ought to rejoice, because in the fire of tribulation the soul will become pure gold, worthy to be placed and to shine in the heavenly palace.
In the first place, I want you to know that Jesus needs someone to mourn with Him for human wickedness. This is why he leads me along the sorrowful paths. But blessed be His charity forever. He knows how to combine the bitter with the sweet and convert the fleeting pains of this life into eternal happiness.
The earth could exist more easily without the sun than without the Holy Sacrifice of the Mass.
Whenever you are seized by melancholy, let your thoughts dwell on that fateful night on which the Son of God began the work of redemption in the solitude of Gethsemane and offer your own sufferings to the Divine Father, along with the sufferings of Jesus. I beg You, O my God, to be my life, my ship, my haven.
In the spiritual life, you must take one step forward each day in a vertical line, from the bottom up.
Our Lord sometimes makes you feel the weight of the cross. This weight seems unbearable but you carry it because in His love and mercy, the Lord helps you and gives you strength.
You must not be discouraged or let yourself become dejected if your actions have not succeeded as perfectly as you intended. What do you expect? We are made of clay and not every soil yields the fruits expected by the one who tills it.
May your good guardian angel always watch over you, and be your guide on the rough path of life. May he always keep you in the grace of Jesus and hold you up with his hands so that you may not hurt your foot on a stone. May he protect you under his wings from all the deceits of the world, the devil and the flesh. Keep him always before your mind's eye. Remember this angel's presence often, thank him, pray to him, always keep up a good relationship. Turn to him in moments of supreme anguish and you will experience his beneficent help. ( Padre Pio Ep. III, pp. 82-83)
---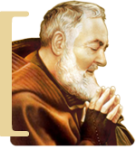 Dear brother,
Dear sister
if you are reading these pages you have felt the need to meet Padre Pio.
Every day we strive to be present online with this blog comforting and encouraging those who are in difficult moment in their life. This blog, unfortunately, involves high management costs and expenses. Help us with your support, our commitment alone is not enough.

We need double Help to be able to continue being online, we can't do it alone. If you want our "mission" to continue, send your contribution, even symbolic. We do not insert annoying advertisements in our blog, we do not ask for a subscription fee, we rely only on your generosity.
If you believe in what we do and publish send your contribution, whatever you can/want. Support: Padrepiodapietrelcina.com Devotional Blog dedicated to Padre Pio.
Your little support is of great value for everyone. Thank you
Padrepiodapietrelcina.Com | Spiritual and Devotional Blog dedicated to St Padre Pio of Pietrelcina
.