Padre Pio had always looked forward to the end of his earthly pilgrimage
He longed to return to his true home, Heaven, where he could be united to God for eternity. He wrote a letter to Padre Agostino and said:
"Living here below is wearisome to me, my dear Father. It is such a bitter torment to me to live in exile that I can hardly go on any longer. The thought that at any moment I could lose Jesus terrifies me in a way I cannot explain. (Letters I)"
Not long before Padre Pio passed away, he spoke to Brother Modestino Fucci and asked him to assist him with his prayers. "But Spiritual Father," Brother Modestino said, "it is you who must pray for me." Padre Pio answered him, "My son, I tell you that the justice of God is severe. Pray for me." Brother Modestino understood then that Padre Pio was speaking of his death.
All rights reserved – © Padrepiodapietrelcina.com 2020
---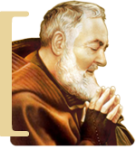 Dear brother,
Dear sister
if you are reading these pages you have felt the need to meet Padre Pio.
Every day we strive to be present online with this blog comforting and encouraging those who are in
difficult moment in their life
. This blog, unfortunately, involves high management costs and expenses.
Help us with your support
, our commitment alone is not enough.
We need double
Help to be able to continue
being online,
we can't do it alone
. If you want our "
mission
" to continue, send your contribution, even symbolic. We do not insert annoying advertisements in our blog,
we do not ask for a subscription fee
, we rely only on your generosity.
If you believe in what we do and publish
send your contribution
, whatever you can/want. Support:
Padrepiodapietrelcina.com Devotional Blog dedicated to Padre Pio
.

Your little support is of great value for everyone.
Thank you
Padrepiodapietrelcina.Com | Spiritual and Devotional Blog dedicated to St Padre Pio of Pietrelcina
.