Padre Pio and the Blessed Carlo Acutis were both very devoted to Angels and to their prince, Saint Michael the Archangel

---
Padre Pio and the Blessed Carlo Acutis were Devoted to Angels
The presence of a guardian angel in Padre Pio's life was noted ever since he was a young priest recovering from illness in Pietrelcina. He often said: "May God's angel be with you, be a light for you, and help and comfort you". By studying Padre Pio's letters to his spiritual leaders we can clearly see the battle he had with the adversary, as well as the consolation and protection his guardian angel offered him.
The deep devotion that the Blessed Carlo Acutis had for angels began when he was a young man. He went on a pilgrimage to Padre Pio, who he revered greatly. He also made a visit to the grotto where Saint Michael the Archangel had appeared, only a few kilometers from the Sanctuary of Padre Pio in San Giovanni Rotondo. He did so because, according to Padre Pio, it is only in that place that "it's possible to be healed in both body and spirit." The Blessed Carlo Acutis was deeply moved by that sacred place, and from that moment on he began to recite the "Corona Angelica" (Angelic Crown), also known as the Rosary of Saint Michael, dedicated to the nine choirs of angels.
All rights reserved – © padrepiodapietrelcina.com 2020
---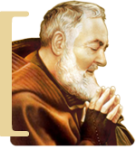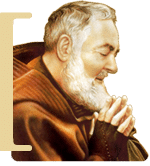 Dear brother, dear sister


if you are reading these pages you have felt the need to meet Padre Pio in your heart.
Every day, with this Blog, we comfort those who are experiencing a
difficult time
or want to strengthen their faith.
Unfortunately, management costs and expenses are high
. Our commitment alone is not enough.
Help us with your support
.
We need double
Help to be able to continue
being online,
we can't do it alone
. If you want our "
mission
" to continue, send your contribution, even symbolic. We do not insert annoying advertisements in our blog,
we do not ask for a subscription fee
, we rely only on your generosity.
If you believe in what we do and if you approve what we publish
send your contribution
, whatever you can/want. Support:
Padrepiodapietrelcina.com Devotional Blog dedicated to Padre Pio
.

Your little support is very valuable for everyone. Thank you
Padrepiodapietrelcina.Com | Spiritual and Devotional Blog dedicated to St Padre Pio of Pietrelcina
.