Padre Pio arrived in San Giovanni Rotondo in 1916, at 29 years old – Padre Pio remained at the Convent of San Giovanni Rotondo for 52 years, for the rest of his life, without leaving even once – Padre Pio lived in San Giovanni Rotondo until the day he dies.
---
Padre Pio arrived in the convent of San Giovanni Rotondo
Padre Pio, invited by Padre Paolino, arrived the first time at the convent of San Giovanni Rotondo on the 28th of July 1916.
During this journey in San Giovanni Rotondo (from 28th July to 5th August), Padre Pio's health seemed to get better. For this reason, the superior, Padre Benedetto, asked Padre Pio to come back again in San Giovanni Rotondo and to stay there for some time or at least until his health improved further.
The 4th September 1916 Padre Pio came back in the monastery of San Giovanni Rotondo, where he stayed for the following 52 years, and from there he never moved again.
San Giovanni Rotondo was at that time a little village on the mountains of Apulia, very humble and poor one, with no electricity system and asphalt roads; so similar to Pietrelcina.
The convent, with an adjoining a small church dedicated to "Nostra Signora delle Grazie" (Our Lady of Grace), was approximately 2 kilometres far away from the village and it was hard to reach because there wasn't a handy road.
Padre Pio was instructed to provide spiritual guidance to the young friars who were part of the Seraphic Seminary.
Padre Pio: war and military service
In 1915, in the middle of the World War, Padre Pio was called three different times to the front lines, but each time he reached the barracks his health declined.
After 147 days of military life, his health deteriorated to the point that his superiors released him to, "let him die in peace at home."
Padre Pio had become familiar with life in the barracks and basic military exercises. He wore his uniform and obeyed his superiors. His brief time in the military caused his soul to suffer greatly, both because of the turmoil of the War itself and because of not being able to attend Mass.
Chronology

(september 4th 1916) Padre Pio is to San Giovanni Rotondo.
(march 16th 1918) After a series of convalescence vacations, he was sent away from the military service because of double bronchial-alveolitis.
(march 18th 1918) His re-entry into the convent of San Giovanni Rotondo was definite.
(september 20th 1918)It was Friday morning, a day in which, like many other Catholics, Padre Pio would have meditated on the Passion and Death of our Lord Jesus in the Sorrowful Mysteries of the Holy Rosary. In front of the cross in the choir of the church of the convent of San Giovanni Rotondo, he received the stigmas to his hands, feet and chest, the signs of the Passion of Christ already announced on the 5th and 6th of August with the prodigal of the cutting through the skin (trasverberazione).
(september 22th 1968) Padre Pio celebrated his last Mass, at five o'clock in the morning and the following night died at 2.30 a.m., he was reunited with God after fifty years from the day that he received the stigmas, which completely disappeared from his body at the moment of his death.
( march 20th 1983) There began the diocesan process for his canonization, which were concluded on the 21st of January 1990, they gave Padre Pio the title of Venerable in 1998 and Beatify in 1999, with the memorable celebration in Piazza San Pietro, presided over by His Holiness John Paul II.
(june 16th 2002) John Poul II proclamed "Saint the Blessed Padre Pio of Pietrelcina".
All rights reserved – © padrepiodapietrelcina.com 2020
---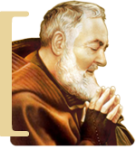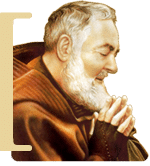 Dear brother, dear sister


if you are reading these pages you have felt the need to meet Padre Pio in your heart.
Every day, with this Blog, we comfort those who are experiencing a
difficult time
or want to strengthen their faith.
Unfortunately, management costs and expenses are high
. Our commitment alone is not enough.
Help us with your support
.
We need double
Help to be able to continue
being online,
we can't do it alone
. If you want our "
mission
" to continue, send your contribution, even symbolic. We do not insert annoying advertisements in our blog,
we do not ask for a subscription fee
, we rely only on your generosity.
If you believe in what we do and if you approve what we publish
send your contribution
, whatever you can/want. Support:
Padrepiodapietrelcina.com Devotional Blog dedicated to Padre Pio
.

Your little support is very valuable for everyone. Thank you
Padrepiodapietrelcina.Com | Spiritual and Devotional Blog dedicated to St Padre Pio of Pietrelcina
.