Padre Pio also spoke about his death to his friend
He said to Carlo, "When my time comes to leave this life, if my heavenly Mother is not there to hold my hand, how will I have courage?" Carlo then began to contemplate the thought of his own death, knowing that he too, would have to render an account to God. As Carlo thought about it, he began to tremble.
There were many indications that Padre Pio had knowledge of the time and date of his death. To his niece, Pia Forgione Pennelli, he said in 1966, "I will not be alive in two years." He would die in 1968. He told his friend Pietruccio Cugino that he would die in his eighty-first year, and indeed he did.
Padre Pio was very close to Father Onorato Marcucci, who assisted him in the last three years of his life. When Father Onorato had to travel to Montecatini a short time before Padre Pio's passing, Padre Pio said to him, "Son, I beg you to return as soon as possible!" He wanted to have those he loved near him at the time of his death.
Padre Pio told that he would die when the crypt in the church of Our Lady of Grace was built
He knew that the Capuchins were planning to build a crypt for his burial. Nevertheless, he indicated that it was not his desire to be buried in a specially made crypt. Rather, he wanted to be buried in a simple grave. The construction of the new church of Our Lady of Grace was finished in 1959. Josephine Bove was afraid that the completion of the new church might in some way be a signal of Padre Pio's death. But the building of Padre Pio's crypt was put on hold for a number of years. It was finally completed and was blessed on September 22, 1968. Padre Pio died sixteen hours later.
All rights reserved – © Padrepiodapietrelcina.com 2020
---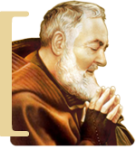 Dear brother,
Dear sister
if you are reading these pages you have felt the need to meet Padre Pio.
Every day we strive to be present online with this blog comforting and encouraging those who are in
difficult moment in their life
. This blog, unfortunately, involves high management costs and expenses.
Help us with your support
, our commitment alone is not enough.
We need double
Help to be able to continue
being online,
we can't do it alone
. If you want our "
mission
" to continue, send your contribution, even symbolic. We do not insert annoying advertisements in our blog,
we do not ask for a subscription fee
, we rely only on your generosity.
If you believe in what we do and publish
send your contribution
, whatever you can/want. Support:
Padrepiodapietrelcina.com Devotional Blog dedicated to Padre Pio
.

Your little support is of great value for everyone.
Thank you
Padrepiodapietrelcina.Com | Spiritual and Devotional Blog dedicated to St Padre Pio of Pietrelcina
.